The bears look ready to go into hibernation for the winter.
"...no one should be surprised by a pullback," was noted here in last week's column. The pullback did materialize — lasting all of two days. Similarly, the prior week featured a pullback, again lasting all of two days. Even the week before that one saw the averages decline, for all of a single session.
Monday's action in the Nasdaq Composite was positive, in that none of the bulky gains of Thursday and Friday were surrendered. As the chart below shows, the Naz printed an inside day on Monday.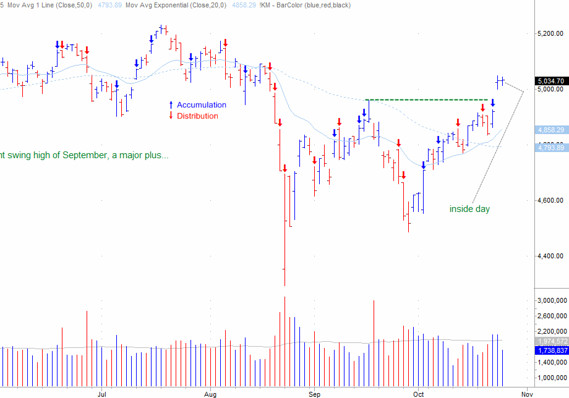 Chart created using TradeStation. ©TradeStation Technologies, 2001-2015. All rights reserved.
This type of behavior generally resolves itself to the upside. As one currency trader likes to say, in baseball terms, "An inside day is like an inside fastball."
Otherwise, bull markets usually end after momentum (the internal strength of the market) peaks. Fewer stocks advancing over a period of months makes it more difficult for the narrower, large-capitalization averages like the Dow Jones Industrial Average and the S&P 500 to continue setting new highs. Eventually they roll over and join the average stock in a bear market.
There is a decided "laggardly" sheen to small- and medium-capitalization shares, especially the former. Recent new issues, many of which led the charge in 2014 and earlier this year, are not currying as much favor from market participants. This is a function of the subsurface rotation, whereby larger issues found in the Dow Jones Industrials' components are outperforming.
The upshot is that the market's longer-term picture weakens, from the standpoint of both momentum and speculative sentiment. Meanwhile, the timeframe that is of most interest to the speculator, the intermediate term, is obviously strong and shows no signs of fatigue, if at a reduced level of speculative sentiment.
While there are a number of stocks breaking out of bases, many are either of the value/cyclical variety or have mediocre earnings expectations, such as Roper Technologies ROP, +0.61% and Laclede Group LG, +0.55% two of Monday's breakouts.
Due to history's biggest-winning stocks being companies with recession-resistant earnings growth and new, innovative products and services, this column has always focused on these so-called...
More