The hawks were the first to take to the air in the shadow of the Teton mountains.
With moose wandering close to the Jackson Lake Lodge, where the symposium is held, it was those Federal Reserve officials most concerned by easy monetary policy who were making their views known as the annual event began with the opening dinner.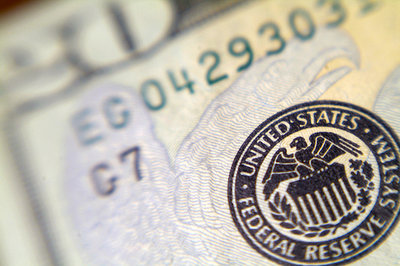 Kansas City Fed President Esther George, the conference host, said broad-based employment gains suggest the U.S. economy is strong enough to withstand higher interest rates.
"We have seen significant progress in the labor market over the last three years, and particularly this year," George told Bloomberg Television. "As we look at the healing we've seen in the economy and that progress, we're in a good place to begin talking about normalization."
Meanwhile, Philadelphia Fed President Charles Plosser, who voted against the Fed's policy statement last month, told CNBC that it's unwise for wages to be the centerpiece of policy and that their relationship with inflation isn't strong. He said he's concerned about the Fed not adjusting policy appropriately.
* * *
Fed Chair Janet Yellen arrived at the dinner to be greeted by about 10 people wearing bright green T-shirts emblazoned with "What Recovery?" and carrying placards with labor market data.
The protesters had traveled to Wyoming to highlight the plight of "struggling workers from around the country" who want the Fed to pursue "full employment that reduces poverty and expands the middle class," according to the Center for Popular Democracy, a Brooklyn-based organization. The backs of their T-shirts had a graph comparing the performance of wage growth among the top 1 percent and the rest.
Ady Barkan, a staff attorney with the group, spoke briefly with Yellen at the door of the lodge's Explorers Room. "She said she understands the issues we're talking about and is doing everything they can," he said, after she had entered the room.
Yellen has regularly cited weak labor markets as a scourge of the economy she's trying to boost with easy monetary policy.
Shemethia Butler, who works part time at a McDonald's Corp. restaurant in Washington, was one of those to make the trip. The 34-year-old said that while she isn't up on monetary policy, she wants policy makers to know she fears higher interest rates for her and her community. She said she works 25 to 35 hours a week for $9.50 an hour at a job she's had for just over a year. Before that she was unemployed for two years.
"There's no recovery," Butler said. "The economy is broken because there aren't enough jobs for people like me."
* * *
The conference's theme is labor markets and Yellen's speech will be the main event of the first full day of the conference. She will speak at 8 a.m. Mountain Time today.
Her address will be followed by the presentation of a paper on churn and the functioning of labor markets by Steven Davis of the University of Chicago and the University of Maryland's John Haltiwanger.
Massachusetts Institute of Technology professor David Autor will then discuss job polarization before a panel on demographics featuring Karen Eggleston of Stanford University, David Lam of the University of Michigan and Ronald Lee of the University of California, Berkeley.
European Central Bank President Mario Draghi will deliver the keynote luncheon speech.
Tomorrow, Till Marco Von Wachter of the University of California, Berkeley, will discuss the scars from the financial crisis and Giuseppe Bertola of the EDHEC School of Business will present a paper on wage dynamics.
The final panel will provide an overview of labor markets and monetary policy. It will include Bank of England Deputy Governor Ben Broadbent, Bank of Japan Governor Haruhiko Kuroda and Brazilian central bank chief Alexandre Tombini.
* * *
The conference is lacking Wall Street participants for the first time.
An exception is Jacob Frenkel, chairman of JPMorgan Chase International, who is attending in his capacity of chairman of the board of trustees of the Group of 30, a private-sector group of mainly former policy makers which advises central banks and governments. Tim Adams, president of the Institute of International Finance, is also present.
Draghi, Kuroda and Bank of Canada Governor Stephen Poloz provide international central banking firepower.
Among academics in attendance are Alan Blinder of Princeton University, Harvard University'sKenneth Rogoff and Martin Feldstein, and John Taylor of Stanford University. PresidentBarack Obama's administration is represented by Jason Furman, chairman of the Council of Economic Advisers and Jeffrey Zients, director of the National Economic Council.
* * *
The backdrop for the symposium and Yellen's speech was set by the release of the minutes from the Federal Open Market Committee's July discussions.
Fed officials in July raised the possibility they might raise rates sooner than anticipated, as they neared agreement on an exit strategy. Some participants were "increasingly uncomfortable" with the pledge to keep interest rates low for a "considerable period," the minutes said.
At the same time, "many participants" still saw "a larger gap between current labor market conditions and those consistent with their assessments of normal levels of labor utilization."
* * *
* * *
* * *
The opening day of Jackson Hole has been associated with stock-market gains in each of the past seven years. The Standard & Poor's 500 Index rose an average 1.3 percent on each of them from 2007 to 2012, following speeches by then-Chairman Ben S. Bernanke, who skipped last year's conference.
The biggest climb was the 1.9 percent of 2009, when Bernanke said the economy appeared to be "leveling out." Gains also followed his signals of 2010 and 2012 that fresh asset-purchases were imminent.
The bar is therefore set high for Yellen who identifies slack labor markets as a reason for easy monetary policy. Economist Ed Yardeni says the "Fairy Godmother of the Bull Market" won't let us down.
Still, Steven Englander of Citigroup Inc. says that because "dovishness is increasingly anticipated," Yellen may have to intensify her support for low interest rates if risk-assets such as stocks are to rally anew.
* * *
* * *
Tourists in Wyoming's Teton mountains are told by the National Parks Service that "hiking alone is not recommended."
Central bankers should perhaps heed the same advice when it comes to interest rates because those who try to raise their benchmarks alone may run into higher exchange rates.
Bank of England Governor Mark Carney has already switched rhetoric, having warned investors in June that they were under-appreciating the risk of higher rates.
Morgan Stanley analysts say New Zealand also may have raised rates more slowly than its domestic economy would suggest, while Canada and Australia have turned more dovish.