Rising health consciousness has been a drag on cola giants. The low-carb diet may be in the best interest of people, but it is terrifying for the many in the beverage industry. Still, two cola and food behemoths – Coca Cola Co. KO and PepsiCo PEP – have made decent progress this year on the back of healthy variations in their offerings and a subdued greenback. KO and PEP are up over 10% and 12%, respectively, so far this year (as of July 26, 2017).
Let's delve a little deeper into their Q2 earnings results and see if the stocks could add more gains ahead (read: 4 ETFs to Ride on 16-Year High Consumer Confidence).
Results in Detail

On July 26, Coca-Cola reported better-than-expected second-quarter 2017 results. Organic revenue growth in sparkling soft drinks, led by innovation in and marketing support for its low and no-sugar options like Coca-Cola Zero Sugar led to the success. Second-quarter 2017 adjusted earnings of $0.59 per share beat the Zacks Consensus Estimate of $0.57. However, earnings decreased 1.7% year over year due to currency headwinds as well as higher costs associated with refranchising efforts.
Net revenue declined 16% year over year to $9.7 billion, marking the ninth successive quarterly decline in revenues. Currency headwinds hurt sales by 2%. Revenues marginally missed the Zacks Consensus Estimate of $9.71 billion. The stock gained about 1.1% in the key trading session, post earnings release.
PepsiCo's second-quarter 2017 earnings released two weeks ago. Core earnings per share of $1.50 beat the Zacks Consensus Estimate of $1.40 by 7.1%. Core earnings grew 10% year over year. In constant currency terms, adjusted earnings grew 13%. The upside was primarily driven by higher pricing, partly offset by weak demand.
Total sales improved 2% year over year to $15.71 billion. Reported revenues surpassed the Zacks Consensus Estimate of $15.64 billion by 0.4%. Excluding the impact of Fx, revenues increased 3.1% on an organic basis. While volumes for organic snacks/food increased 2% (higher than 1% growth witnessed in the first quarter), beverage volumes dropped 2%.
PepsiCo lifted its core EPS forecast for 2017 to $5.13 from $5.09 expected earlier. The company now anticipates foreign exchange to have less negative impact on core earnings than previously expected.
Since the release of earnings, PepsiCo traded in the green (up about 3%) (as of July 26, 2017), mainly to reflect the enhanced outlook.
ETF Impact
The Zacks Industry and Sector Ranks of KO and PEP are in the top 9% and top 19%. The consumer staples ETFs having notable exposure to Coca Cola and PepsiCo also seemed to have benefited, as the duo and the related ETFs beat the broader market index in the last 10 sessions (see all Consumer Staples ETFs here).
Consumer Staples Select Sector SPDR Fund XLP

The most popular consumer ETF on the market, XLP, follows the S&P Consumer Staples Select Sector Index. Of its 38 holdings, the in-focus Coca-Cola takes the third spot, making up roughly 9.50% of the assets while PepsiCo accounts for about 5.21% of XLP, taking up the sixth position (read: Amazon's Foray Into Grocery to Hurt/Help These Stocks & ETFs).

In terms of sector exposure, the fund is skewed toward food & staples retailing which makes up for one-fourth share, closely followed by beverages (21.59%) and household products (20.4%).

Vanguard Consumer Staples ETF VDC

This fund provides exposure to a basket of 103 consumer stocks by tracking the MSCI US Investable Market Consumer Staples 25/50 Index. Coca-Cola is the second company with 8.3% allocation while PepsiCo takes the fourth position holding 7.5%. The product is widely spread across various sectors, of which soft drinks take 17.8% allocation (read: ETFs in Focus After Phillip Morris's Downbeat Q2 Results).

iShares U.S. Consumer Goods ETF IYK

This ETF tracks the Dow Jones U.S. Consumer Goods Index, giving investors exposure to the broad consumer staples space. The fund holds about 113 stocks in its basket. Here too, Coca-Cola and PepsiCo occupy the second and third positions, respectively, in the basket with 7.73% and 7.39% of assets. IYK is also widely diversified across sectors with food beverage tobacco making up more than 49%.
First Trust Nasdaq Food & Beverage ETF FTXG
This ETF tracks the Nasdaq US Smart Food & Beverage Index. The fund holds about 29 stocks in its basket. Here too, Coca-Cola and PepsiCo occupy the first and second positions, respectively, in the basket with 8.11% and 8.09% of assets. The fund has about 22.2% exposure to the soft drinks segment.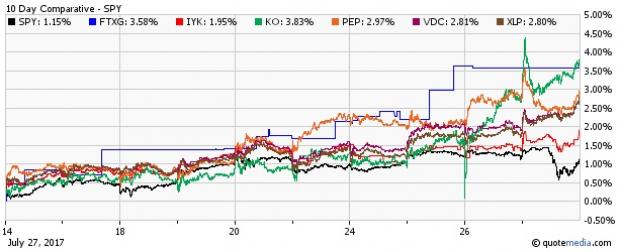 Want key ETF info delivered straight to your inbox?

Zacks' free Fund Newsletter will brief you on top news and analysis, as well as top-performing ETFs, each week. Get it free >>
Want the latest recommendations from Zacks Investment Research? Today, you can download 7 Best Stocks for the Next 30 Days.
Click to get this free report
Coca-Cola Company (The) (KO): Free Stock Analysis Report
Pepsico, Inc. (PEP): Free Stock Analysis Report
SPDR-CONS STPL (XLP): ETF Research Reports
VIPERS-CONS STA (VDC): ETF Research Reports
ISHARS-US CN NC (IYK): ETF Research Reports
FT-NDQ FD&BVG (FTXG): ETF Research Reports
To read this article on Zacks.com click here.
Zacks Investment Research
Want the latest recommendations from Zacks Investment Research? Today, you can download 7 Best Stocks for the Next 30 Days. Click to get this free report