So much for expectations that January, missing on 9 out of 10 previous occasions, will miss again, as the BLS just reported that in January a whopping 257K jobs were added, far above the 228K expected, and up from December's 252K which was revised as part of the annual BLS data revision to 329K, a whopping 147K revision! More impressive: the household survey reported that a whopping 759K jobs were created in January.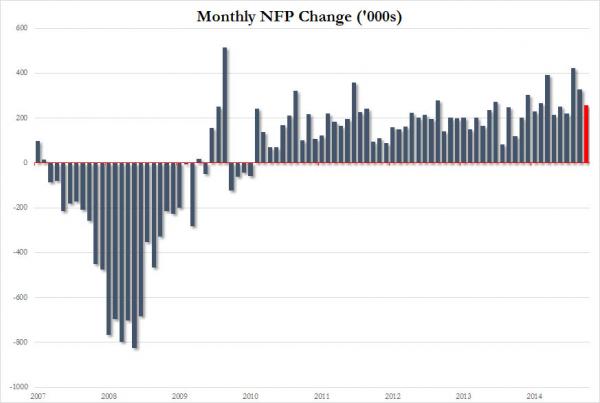 The unemployment rate rose from 5.6% to 5.7%, above the 5.6% expected.
But most notable, the average hourly earnings surged from last month's -0.2% by a whopping 0.5%, the highest monthly jump in average hourly earnings since November 2008. On an annual basis, the increase was a less impressive 2.2%: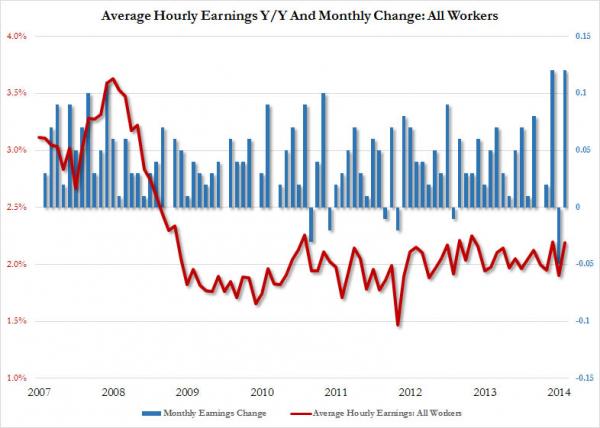 It remains to be seen just how this is happening with mass layoffs in the oil patch, but what is now practically assured is that the Fed will have no choice but to hike as soon as June.
More from the report:
Total nonfarm payroll employment rose by 257,000 in January. Job gains occurred in retail trade, construction, health care, financial activities, and manufacturing. After incorporating revisions for November and December (which include the impact of the annual benchmark process), monthly job gains averaged 336,000 over the past 3 months. (See table B-1 and summary table B. See the note at the end of this news release and table A for information about the annual benchmark process.)
Employment in retail trade rose by 46,000 in January. Three industries accounted for half of the jobs added--sporting goods, hobby, book, and music stores (+9,000); motor vehicle and parts dealers (+8,000); and nonstore retailers (+6,000).
Construction continued to add jobs in January (+39,000). Employment increased in both residential and nonresidential building (+13,000 and +7,000, respectively). Employment continued to trend up in specialty trade contactors (+13,000). Over the prior 12 months, construction had added an average of 28,000 jobs per month.
In January, health care employment increased by 38,000. Job gains occurred in offices of physicians (+13,000), hospitals (+10,000), and nursing and residential care facilities (+7,000). Health care added an average of 26,000 jobs per month  in 2014.
Employment in financial activities rose by 26,000 in January, with insurance  carriers and related activities (+14,000) and securities, commodity contracts, and investments (+5,000) contributing to the gain. Financial activities has added 159,000 jobs over the past 12 months.
Manufacturing employment increased by 22,000 over the month, including job gains in motor vehicles and parts (+7,000) and wood products (+4,000). Over the past 12 months, manufacturing has added 228,000 jobs.
Professional and technical services added 33,000 jobs in January, including increases in computer systems design (+8,000) and architectural and engineering services (+8,000).
In January, employment in food services and drinking places continued to trend up (+35,000). In 2014, the industry added an average of 33,000 jobs per month.
Employment in other major industries, including mining and logging, wholesale trade, transportation and warehousing, information, and government, showed little change over the month.