While today's payrolls report will hardly have much of an impact on Fed policy as explained previously, moments ago the BLS reported that in June the US added 222K jobs (making a mockery of the ADP print again), beating expectations of 179K, with the May payrolls number revised from 138K to 152K and April revised from 174K to 207K, for a combined revision of the past two months of +47,000 more than previously reported.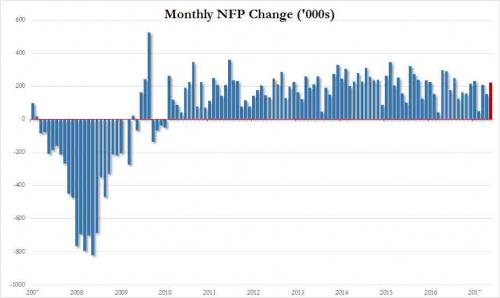 No blaming the weather this month: the BLS reported that 31k employees could not work due to poor weather conditions, which is roughly in line with the 35K average for June. And yet, some 221k workers who usually work full-time could only work part-time due to the weather last month.
Meanwhile, the unemployment rate rose from 4.3% to 4.4%, and above the expectation of an unchanged print.
However, the fly in the ointment is that despite the better than expected job growth, wage growth once again disappointed, with average hourly earnings rising only 0.2%, missing expectations of a 0.3% increase, while the May earnings number was revised lower from 0.2% to 0.1%. On a Y/Y basis, avg. hourly earnings rose 2.5%, also missing expectations of a 2.6% increase.