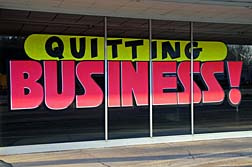 It is very stressful when your business has reached a point to where your mind has wandered to the word BANKRUPTCY.  At times to keep a business operating and pay the bills can be a taunting task, especially if your return of investment is not grand as your calculations determined.
When any company reaches the point of no return, they consider the options of filing for Chapter 7 or Chapter 11 bankruptcy.
Chapter 11 bankruptcy can be used to make an attempt to revive the business into making money again. Compared to Chapter 7, Chapter 11 bankruptcy enables one to keep their business up and running while controlling the bankruptcy process. The business has the opportunity to reorganize their financial plans without handing over any assets to the debtor. If a business ends up not making any substantial profit, they will have to give up a couple of assets to pay off the debtor.
When filing for Chapter 7 all bets are off. You are completely out of business. Everything stops. Business owners must sell or liquidate all of the company's assets. The money is usually used to pay off legal and administrative fees as well as the debt itself. The would also involve money that is owed to investors or creditors.
This is just a tiny bit of what conveys business bankruptcy. When making the decision to file for business bankruptcy you must be strategic about it and logical. If you business is truly down the hole, you've used all marketing tactics, exhausted all your resources and see absolutely no chances of the business reviving, then you should intelligently consider filing for Chapter 7. But if your business is sampling suffering a mini downfall based on location, season, may a freak accident or controversy, it will has a chance at becoming a profitable entity so Chapter 11 may be a safer option.
Are you stuck between filing for Chapter 7 or Chapter 11?