International Business Machines Corporation IBM just released its second quarter 2017 financial results, posting earnings of $2.97 per share and revenues of $19.29 billion. Currently, IBM is a Zacks Rank #4 (Sell), and is down 1.82% to $151 per share in after-hours trading shortly after its earnings report was released.
IBM:
Beat earnings estimates. The company posted earnings of $2.97 per share (excluding $0.49 from non-recurring items), beating the Zacks Consensus Estimate of $2.73 per share.
Missed revenue estimates. The company saw revenue figures of $19.29 billion, missing our consensus estimate of $19.47 billion.
The company posted net income of $2.33 billion in the second quarter, but total revenues were down 4.7% year-over-year.
IBM posted $3.9 billion in cloud-based revenues in the second quarter, a 15% jump. The technology giant has made $15.1 billion over the last 12 months from its cloud-computing segment, which it is now heavily invested in.
Mobile-based revenues jumped 27%, while security segment revenues increased by 4%.
The company reaffirmed its full-year 2017 outlook, projecting operating (non-GAAP) diluted earnings per share of at least $13.80.
"In the second quarter, we strengthened our position as the enterprise cloud leader and added more of the world's leading companies to the IBM Cloud," IBM chairman, president, and CEO Ginni Rometty said in a statement.
"We continue to innovate, adding regtech capabilities to our portfolio of Watson offerings; developing solutions based on emerging technologies such as Blockchain; and reinventing the IBM mainframe by enabling clients to encrypt all data, all the time."
IBM Here's a graph that looks at IBM's Price, Consensus and EPS Surprise history:
International Business Machines Corporation Price, Consensus and EPS Surprise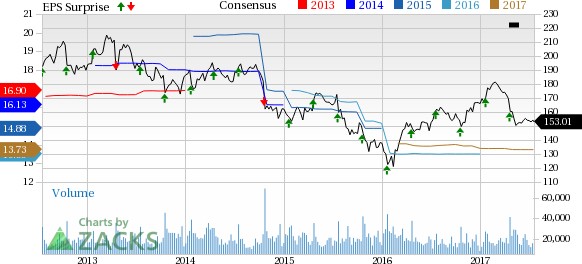 International Business Machines Corporation Price, Consensus and EPS Surprise | International Business Machines Corporation Quote
IBM is an information technology (IT) company. The company operates in five segments: Global Technology Services, Global Business Services, Software, Systems and Technology, and Global Financing. The Global Technology Services segment provides IT infrastructure services and business process services. The Global Business Services segment offers professional services and application management services. The Software segment consists primarily of middleware and operating systems software. The Systems and Technology segment provides computing power and storage solutions; and semiconductor technology products and packaging solutions. The Global Financing segment invests in financing assets, leverages with debt and manages the associated risks. IBM is headquartered in Armonk, New York.
Check back later for our full analysis on IBM's earnings report!
5 Trades Could Profit "Big-League" from Trump PoliciesIf the stocks above spark your interest, wait until you look into companies primed to make substantial gains from Washington's changing course.

Today Zacks reveals 5 tickers that could benefit from new trends like streamlined drug approvals, tariffs, lower taxes, higher interest rates, and spending surges in defense and infrastructure. See these buy recommendations now >>
Want the latest recommendations from Zacks Investment Research? Today, you can download 7 Best Stocks for the Next 30 Days.
Click to get this free report
International Business Machines Corporation (IBM): Free Stock Analysis Report
To read this article on Zacks.com click here.
Zacks Investment Research