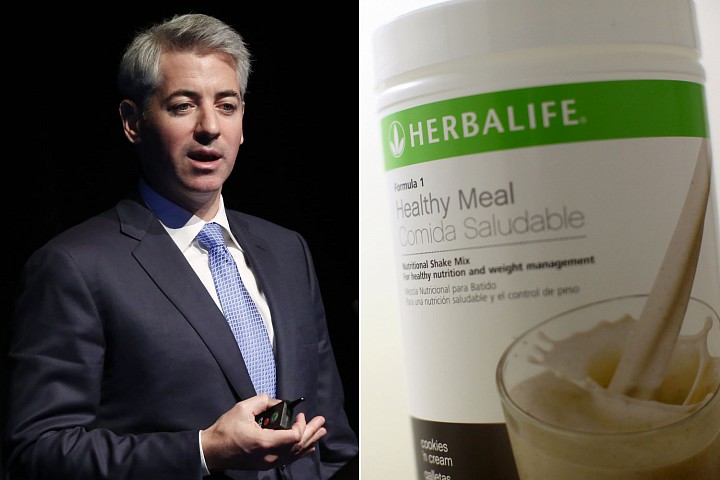 Herbalife (HLF) stock had a steep drop of 7% on Monday leading up to the Bill Ackman presentation on Tuesday.  During the presentation however, the stock has climbed as much as 14% intraday.
Ackman claims that the supplement company's nutrition clubs are "mini" versions of the multilevel marketer's broader "pyramid" scheme.  He used findings by undercover investigators who joined Herbalife's nutrition clubs, showing evidence that the clubs are designed to recruit and train additional product-selling members, as opposed to consumption of the company's products.
Ackman also cited an internal Herbalife document that described a strategy to expand in developed countries.  He said the company works to attract to "poorest of the poor".  Even though these aren't major bombshells, the biggest thing is that Ackman believes the company is skirting labor laws with its nutrition clubs.
Overall, Ackman alleges that Herbalife has "fictitious customers" and a "fictitious business opportunity."  He called Herbalife "a fraud perpetrated by Herbalife's senior management and members of its Founder's Circles, Chairman's Club and President's Team conceived, designed and executed to exploit the poor."
Ackman said that Pershing Square spent $50 million on investigating Herbalife, stating, "I'm not proud of that number."  He also said they investigated over 240 nutrition clubs.
Herbalife's CFO John DeSimone was on CNBC this morning and was quoted saying that Ackman's "bark is worse than his bite."  DeSimone went on to tell CNBC, "There's no doubt he's missing the real analysis, the real research.  What he's missing is that fundamentally millions of people use the product and enjoy the product."