The Philippines has confirmed that it will meet the United States' appeals to resolve the South China Sea dispute. Following a regional security conference organized at Kuala Lampur, Albert del Rosario, the Secretary of Foreign Affairs of the Philippines, stated that, "As a means of de-escalating tensions in the region, the Philippines fully supports and will pro-actively promote the call of the United States on the 'three halts'- a halt in reclamation, halt in construction and a halt in aggressive actions that could further heighten tensions."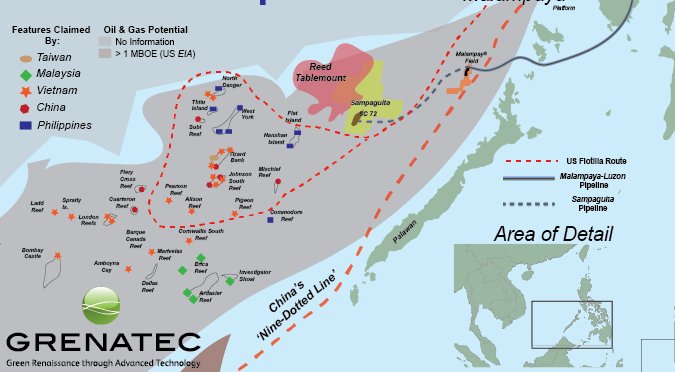 The Foreign Affairs Secretary was quick to add that the Philippines would only observe these commitments if other claimants in the South China Sea dispute, including China, agree to do the same.
The South China Sea Issue
The South China Sea issue is one of the most compelling examples of maritime geopolitical disputes in the modern day, with several nation-states laying claim over the sea. The claimants include Brunei, China, Malaysia, the Philippines, Taiwan and Vietnam.
The Spratly Islands- at the heart of the dispute- are a collection of 750 islands, reefs, cays and atolls in the South China Sea. The region is rich in extensive natural gas and oil reserves and is recognized for the fishing opportunities it offers. The islands enjoy a strategic location in Northeast Asia's most prominent maritime commerce routes; the waterway facilitates international sea-borne trade worth $5 trillion every year.
It is widely acknowledged that authority over the islands will allow the controlling party unprecedented clout over any and all maritime activity in the region. As such, whoever controls the South China Sea will enjoy a monopoly over resources, commerce, military influence and geopolitical power in the region.
Tensions came to a head in 2014 when China began construction artificial islands in the sea. China has staked a claim over 3000 acres in the region, over the course of the last one-and-a-half years. The figure far outstrips the comparatively paltry 100 acres that have been reclaimed by Malaysia, the Philippines, Taiwan and Vietnam spread over four decades.
U.S. Concerns Over South China Sea 'Militarization'
The United States remains opposed to the South China Sea island building project over the threat it poses to peace and security in the region. The South China Sea has become a severely disputed region, with numerous claimants, and the United States is concerned that any move to further these declarations will escalate hostilities.
Even as the primary players continue to debate the economic and trade repercussions of China establishing control over the entire sea, Washington's reservations are rooted along security and military lines. The construction of military structures on the islands creates a severe threat to stability in the region- an...
More