In a move to further enhance shareholder's wealth, DST Systems, Inc.'s DST board of directors recently approved a new share repurchase program and increased the quarterly cash dividend rate. The latest move reflects the company's sound financial position and favorable prospects.
The new authorization permits DST to buy back up to $300 million worth of its common stock. As of Apr 28, 2017, the company had approximately 30,881,651 shares outstanding. Notably, management's new authorization comes after DST completed its previous $300 million share repurchase program last month.
Per the new program, DST will have the discretionary power to terminate the buyback at any time it wishes and can repurchase its common stock under the prevailing market and business conditions. Share repurchase can be made in open market or by private transaction in accordance with Rule 10b-18 of Securities and Exchange Commission. Rule 10b-18 provides companies with a "safe harbor" in case of share repurchase. Under this rule it is assumed that the company has not violated anti-fraud provisions.
DST Systems, Inc. Price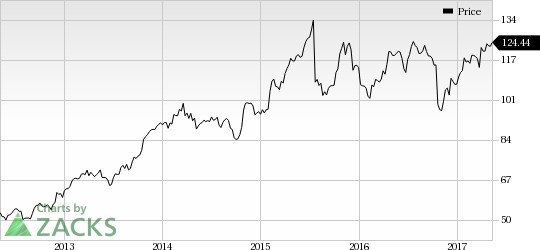 Apart from approving the new share repurchase program, management raised its quarterly cash dividend payment rate. The board of directors declared a cash dividend of 36 cents on a pre-split basis, representing an approximately 3% increase from the previous pre-split quarterly dividend payment of 35 cents. The newly approved dividend will be payable on Jun 9 to shareholders of record as of May 26.
Concurrent with the share repurchase and dividend announcements, the board of directors approved a two-for-one split of the company's common stock. After the split, DST expects its outstanding shares to increase to approximately 61,763,302.
Management's recent moves were welcomed by investors as evident from an over 1% increase in DST Systems' share price. We note that DST has outperformed the Zacks Computer - Software industry on a year-to-date basis. While the stock returned 16.1%, the industry gained 15.8% in that time frame.

The outperformance can be attributed to DST's strong business model. The company generates recurring revenues and a good percentage of its business comes from long-term contracts.
DST Systems' strong balance sheet provides it with the financial flexibility to undertake shareholder-friendly initiatives as well as scope for product and geographical expansions. The company exited the last quarter with cash and cash equivalents of nearly $260.4 million.
We believe that dividend payments and share repurchases not only enhance shareholder return but also raise the market value of the stock. Through dividend payouts, companies bolster investor confidence, persuading them to either buy or hold the scrip. Looking ahead, DST remains confident of its growth potential, thereby raising hopes for further enhancement of shareholder value through share buybacks.
Some other companies with a consistent track record of returning excess cash through share repurchases and dividend payments include Yahoo! Inc. YHOO, Arrow Electronics ARW and Accenture plc ACN.
Zacks Rank
Currently, DST carries a Zacks Rank #2 (Buy). You can see the complete list of today's Zacks #1 (Strong Buy) Rank stocks here.
Looking for Ideas with Even Greater Upside?
Today's investment ideas are short-term, directly based on our proven 1 to 3 month indicator. In addition, I invite you to consider our long-term opportunities. These rare trades look to start fast with strong Zacks Ranks, but carry through with double and triple-digit profit potential. Starting now, you can look inside our home run, value, and stocks under $10 portfolios, plus more.
Click here for a peek at this private information >>
Want the latest recommendations from Zacks Investment Research? Today, you can download 7 Best Stocks for the Next 30 Days.
Click to get this free report
DST Systems, Inc. (DST): Free Stock Analysis Report
Yahoo! Inc. (YHOO): Free Stock Analysis Report
Arrow Electronics, Inc. (ARW): Free Stock Analysis Report
Accenture PLC (ACN): Free Stock Analysis Report
To read this article on Zacks.com click here.
Zacks Investment Research