The S&P500 Index has been generally flat overnight as it digests its recent 2 session decline, following a peak in the wake of the FOMC decision. I had written about the possibility of a pullback in equities last week on Friday, but didn't really expect it to come right away.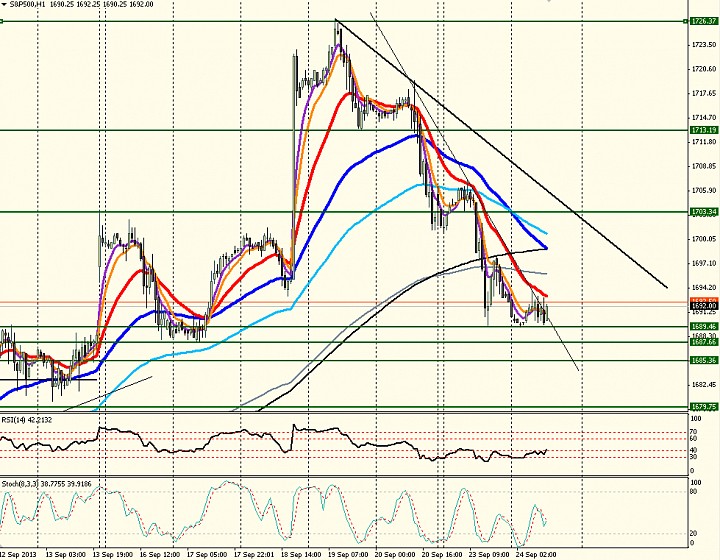 In any case, we have seen stocks give back all the "no-taper FOMC" news and the index now tests an important zone of support from 1689.50 down to 1685.

The moving-average alignment in the 1-hour timeframe has turned decisively bearish (price is below the 200, we've had bearish crossovers of the 21 and 55 emas, and the 55 and 200 emas).

The RSI shows that the index has been riding oversold conditions since lat on Friday, and looks like it wants to turn upward for at least a retrace.

Currently the 21-ema is acting as resistance.
There are lots of concerns out there for investors including:
Forward guidance concerns
Interest rate rise concerns
Mortgage and borrowing concerns
Bailout concerns
Growth concerns
LTRO concerns
Job concerns
Monetary policy concerns
Economic data concerns
and in the US, the debt ceiling and budget showdown.
Therefore, will risk sentiment be able to rally, or do we have a continuation of the bearish move we've seen recently?

I'll be looking for clues as to what the S&P500 index does here.

- Nick