Hedge fund manager revealed short position.
Chanos compared SolarCity to a subprime financing company.
Short interest has already surged as loss expectations increase.
The last 12 months have not been pretty for investors in SolarCity (NASDAQ:SCTY). Falling energy prices have discouraged some from entering the solar space, while the company's disappointing results have investors doubting SolarCity's potential. On Friday, shares hit a new 52-week low as a major hedge fund manager announced he was short the stock. As seen in the chart below, SolarCity has lost almost half of its value since September 2014.
(click to enlarge)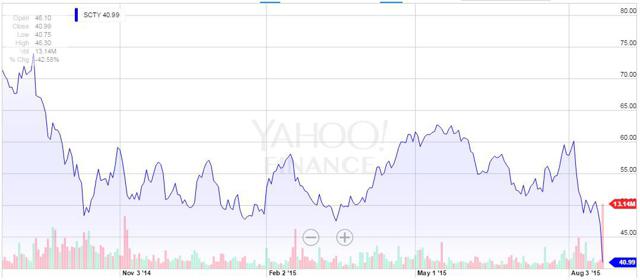 (Source: Yahoo! Finance)
On Friday, SolarCity shares lost nearly $6, or 12.75%, amid a market selloff. The fall was attributed to news that Jim Chanos, head of the world's largest short-selling fund, announced that SolarCity was one of his firm's biggest short positions in renewable energy. Chanos essentially compared the company to a subprime financier, and some of his quotes are below, from the linked article above:
"Solar is a transformational industry, and it's going to be a great thing and part of it is because cost for everything keep coming down," Chanos said. "That's a problem if you are SolarCity, and your customers are paying you this above market prices and you hope to sell more systems."

"SolarCity is burning an awful lot of cash, hundreds of millions of dollars every quarter, has a lot of debt and has negative EBITDA," Chanos added. "And in this kind of environment that is a very scary proposition. I mean, they are going to have to raise a lot of money in a model that I think has been passed over in terms of the more institutionalized and distributed model of solar."
Some of Chanos' concerns were ones I detailed in my most recent article on the name. The company had a larger than expected Q2 loss, and guided to a Q3 loss that was well beyond even the most bearish analyst on the street. The company expects to lose $2.05 to $2.15 a share this quarter on a non-GAAP basis, and analysts are still only expecting a $1.90 quarterly loss. Should the street get closer to the company's guidance, loss expectations for this year will continue to widen, and they are already at their worst point.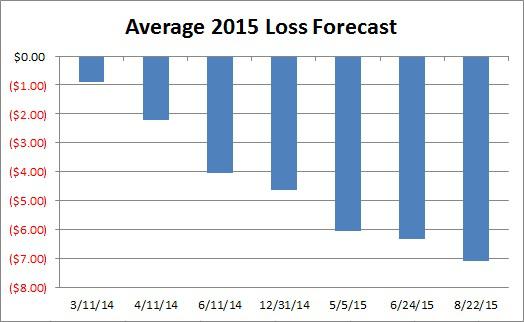 In 2016, analysts expect the company's loss to widen further. By the time SolarCity reports Q3 results, the street could be looking for an $8 or more loss next year. As these loss expectations have piled up, short interest in this name has continued to skyrocket. The chart below shows this 833% rise since March 2013.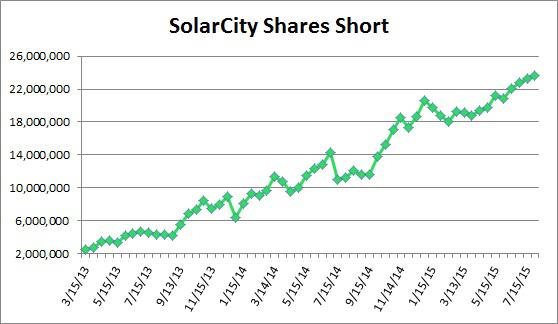 (Note: last data point on chart is for settlement date of 7/31/15)
The end of July figure shows over 23.6 million shares short, which is up over 109% in the past twelve months. Based on data provided by Yahoo Finance, about 47.5% of the stock's float is now short, making SolarCity one of the most shorted stocks out there currently. It will be interesting to see if the Chanos' news increases short interest over the next couple of updates. It won't take too many more bearish positions for over half of the float to be short.
SolarCity CEO Lyndon Rive was not pleased with Chanos' statements. As detailed in the article first linked above, Rive called into CNBC on Friday to rebut some of Chanos' arguments. Rive stated that the subprime market was defined by a FICO credit rating of 640, while SolarCity doesn't accept customers below a score of 650. In fact, the average FICO score for the company's customers is 750. Rive also believes that SolarCity is selling energy at a rate lower than customers can buy from utilities today.
In the end, SolarCity shares hit a new 52-week low on the news that Jim Chanos is short the stock. The hedge fund manager does have some solid concerns, like poor cash flow and tremendous losses. However, SolarCity CEO Lyndon Rive believes Chanos' comparison to a subprime financier are a bit off. One thing is certain, and that is that short interest in the name continues to hit new all-time highs, currently approaching 50% of the stock's float short.
Additional disclosure: Investors are always reminded that before making any investment, you should do your own proper due diligence on any name directly or indirectly mentioned in this article. Investors should also consider seeking advice from a broker or financial adviser before making any investment decisions. Any material in this article should be considered general information, and not relied on as a formal investment recommendation.
More