Natalya Malykh, Leading Analyst, Global Markets (Finam)

In morning trading the EUR/USD pair has shown fractional movements as Europe and the US celebrate Good Friday. In line with our expectations, yesterday the single European currency bounced up to 1.2840 in the absence of any fresh negative news out of Europe and technical factors.
After nearly a 2-week hiatus Cypriot reopened without any disruptions and better retail sales numbers out of Germany contributed to bullishness. For the record, Germany's February retail sales unexpectedly increased 0.4% m-o-m despite forecasts of a 1% drop.
Meanwhile, Italian political risks persist. The leaders of three parties have failed to form a coalition and now the country's president will have to search for a new PM. Negotiations on this issue are set to begin this afternoon.
We also would like to note that Cypriot troubles led to tension in Slovenia which is expected to seek financial aid from creditors. Reuters reported that over the past seven days yields on Slovenia's government debt have widened substantially.
Today US, European and also some Asian exchanges are closed for Good Friday, and today volume will likely be thin, leaving room for sharp swings on incoming news.
The EUR/USD pair is trading near the resistance level (1.2840). If this threshold is breached, investors could continue to close short positions in the euro and in this case our target is 1.2960. Under an alternative scenario, the pair could form a triple bottom in the region of 1.2755: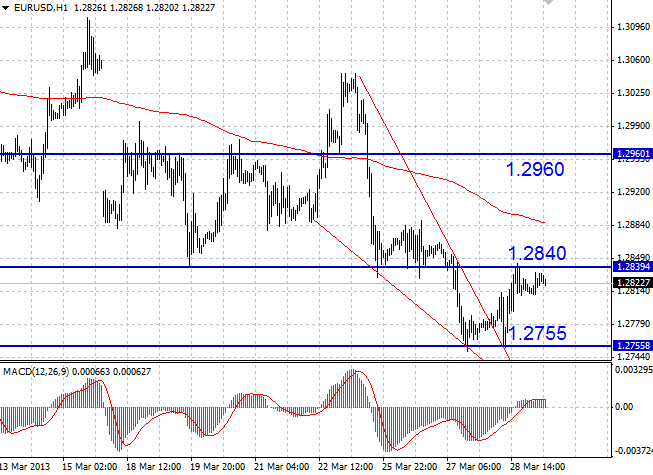 Source: MetaTrader Finam Ltd., 1-Hour Chart