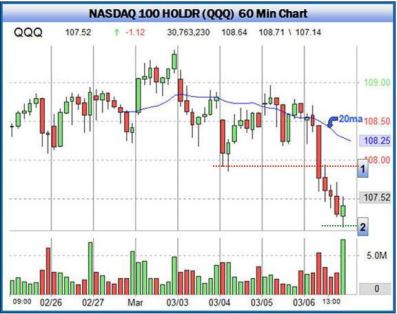 On Friday the market gapped down and rallied a mild mount during the first hour of the day to fill the gap and set the high of the day at the 10.30 reversal time. The market retested at high at 11 and then fell sharply all the way until noon. After that the market remained in a five minute downtrend and continued to bleed lower closing on the low the day leaving a big red bar on the daily chart. The SPY was similar but slightly weaker.
The key area discussed on the charts shown at "1" on the 60 minute chart, and at "4" on the daily chart was violated Friday afternoon and the market continue to drop. This is the presumption now that prices will seek out there natural pullback area which will be in the general area of "3" on the daily chart. This area has been marked for weeks and described as the area to be looking to once the intraday up trending patterns breaks. That is what prices have done.
The likelihood is that prices will maintain a sideways pattern today leaving a fairly narrow bar on the daily chart. Any rally should be contained at "1". Bullishness on the daily chart would not return until the area at "3" is reached unless Friday's bar is engulfed.