"The four most dangerous words in investing are: 'this time it's different.'" - Sir John Templeton

The above quote pretty much defines the nature of the stock market. Well, the Retail – Wholesale space is no exception, as the sector has been constantly struggling to keep pace with the evolving consumer trends. Consumers' rapid shifts to online shopping have hit retailers hard, by affecting their top line. Consequently, retailers are in the process of switching from their traditional store concept to the new and attractive omni-channel concept.

This in turn has led to intensifying industry competition, which in turn remains a threat for margins. Additionally, unfavorable U.S. retail sales data for the month of June raise doubts over the expected rebound in the economy in the second half of 2017.

Retail Won't Let You Down

On the contrary, the rebound in oil prices from all-time lows, improving job scenario and a gradual improvement in the housing market signal chances of recovery. Moreover, the Retail – Wholesale sector registered an increase of 15.6% so far this year, compared with the S&P 500 market's growth of 10%. While this outperformance underscores the sector's fundamental strength, it is difficult to ignore the aforementioned industry hurdles. Thus, investors are bound to feel perplexed.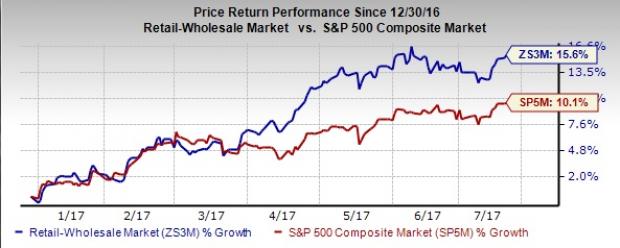 However, even amid such uncertainties in the retail industry, investors can still profit. All investors need to do is use the right strategies and strike the correct balance.

Safeguard Your Portfolio – Invest in Dividend Stocks

To fight the odds, we suggest investing in dividend stocks. Adding dividend stocks to ones portfolio is always a good decision. These stocks not only provide a steady return for countering short-term market challenges but also help to stay afloat in the long term as well.
Further, dividend stocks are generally less volatile than non-dividend stocks and proven long-term outperformers. Thus, investors should simply resort to by picking stocks that have the potential to pay steady dividends.

4 Retail Stocks You Can't Miss

All said, we used our Zacks Stock Screener to discover three Zacks Rank #2 (Buy) stocks in the retail industry with dividend yields of at least 2.5%. Well, some of these stocks also flaunt a favorable Growth Style Score, thus doubling the treat. Well, our research shows that a Growth Style Score of ''A'' or ''B'.' when combined with a Zacks Rank #1 (Strong Buy) or 2 offer the best opportunities in the growth investing space. You can see the complete list of today's Zacks #1 Rank stocks here.

Minneapolis-based Target Corporation TGT is one solid bet, which has a dividend yield of about 4.6%. This departmental store retailer has been actively managing its capital and returning much of its free cash via share repurchases and dividends. In the last reported quarter, Target repurchased shares worth $305 million and paid dividends of $332 million and plans to invest between $2–$2.5 billion of capital in fiscal 2017 and more than $7 billion over the next three years.
Flaunting a Growth style score of B, Target's earnings have outperformed our estimate by an average of 16.5% in the trailing four quarters. Target has gained 5.6% in the last month, as against the Zacks categorized www.zacks.com/stocks/industry-rank/industry/retail-discount-...">Retail – Discount & Variety industry's dip of 1.7%.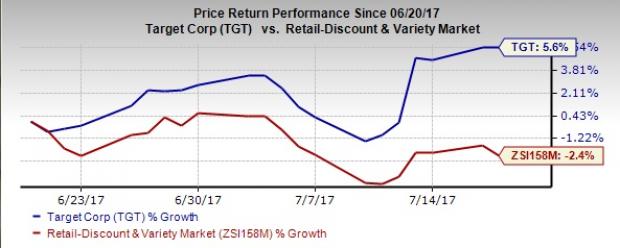 Investors can also look at Barnes & Noble, Inc. BKS, which has a Growth Score of A. Based in New York, the company is engaged in the retail sale of trade books, mass market paperbacks, children's books, off-price bargain books and magazines. Notably, Barnes & Noble has dividend yield of a solid 8.2%, and long-term EPS growth of 10%.
The company, which spent $23 million in share repurchases and $44 million in dividend payments in fiscal 2017, plans to maintain its practice of paying dividends regularly in future as well. Well, the company has surged 12.3% over the last month, when the Retail – Miscellaneous industry dropped 4.2%.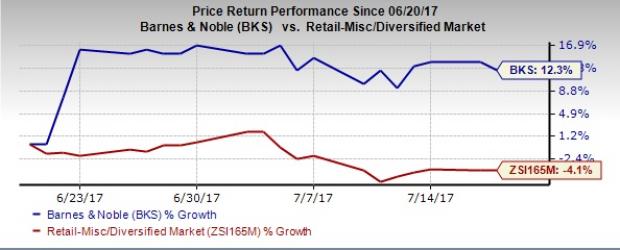 We also suggest investing in Fastenal Company FAST, which has outperformed our earnings estimate by an average of 1.8% in the trailing four quarters. Based in Minnesota, Fastenal is a national wholesale distributor of industrial and construction supplies. The company paid dividends worth $92.5 million in the last reported quarter, alongside incurring $56.7 million in share buybacks.
Further, management's confidence in its ability to continue with dividend payments reflects the company's sound liquidity position. With a dividend yield of roughly 3%, Fastenal has long-term EPS growth rate of 16%. While Fastenal has gained just 0.5% over the last one month, it has fared better than the Zacks categorized Building Products – Retail industry's drop of 3%.





The Bottom Line

Dividend payments and share buybacks not only reflect a company's sound financial status but it also speaks about its commitment toward investors.

Looking for Stocks with Skyrocketing Upside?

Zacks has just released a Special Report on the booming investment opportunities of legal marijuana. Ignited by new referendums and legislation, this industry is expected to blast from an already robust $6.7 billion to $20.2 billion in 2021. Early investors stand to make a killing, but you have to be ready to act and know just where to look.

See the pot trades we're targeting>>
Want the latest recommendations from Zacks Investment Research? Today, you can download 7 Best Stocks for the Next 30 Days.
Click to get this free report
Fastenal Company (FAST): Free Stock Analysis Report
Target Corporation (TGT): Free Stock Analysis Report
Barnes & Noble, Inc. (BKS): Free Stock Analysis Report
To read this article on Zacks.com click here.
Zacks Investment Research