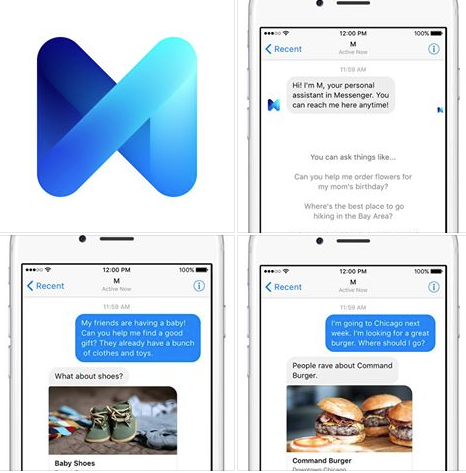 Facebook (NASDAQ: FB) just took another leap forward in becoming the center around which people use the Internet.
The social media giant is currently testing a brand new service available through its Messenger application. According to CNN Money, a new artificial intelligence based, digital assistant, known as "M," is now available to a select group of Messenger users.
However, this service is unlike other similar digital assistants like Siri (NASDAQ: AAPL) and Cortana (NASDAQ: MSFT), CNN Money reported. M works a little differently.
Instead of speaking to M using your voice, users need to type to the service, which for now has no gender, in order to request certain tasks. These include booking hotels, flights and countless other possibilities.
However, according to CNN Money, Facebook has real humans working behind service for the time being.
The service deviates from competing digital assistants in other ways, as well. Unlike Siri, for example, M does not get to know its user on a personal level, having no access to things like calendars and personal preferences; it only knows what the user tells it.
According to CNN Money, Facebook is planning on releasing the function widely within the coming months.
Facebook is facing a challenge here. It seems as though tapping into a non-native service, when a native one probably already exists on a users device, is more of a hassle than it's worth.
I do understanding that M may be able to perform functions that Siri or Cortana cannot. However, why would a user open the Messenger app and find M to execute a command when they could simple hit the home button and have Siri ready to go?
M has a future, however, Facebook will have to fix the inconvenience factor first.
For more business and financial news, click here.
*This is editorial content and expresses the opinion of the author.