Canadian Employment data for September surprised to the upside showing 74.1K jobs added, beating forecasts that called for a reading round 18.7K. August's print was -11.0K. We should note that this data point is volatile, but a look at the data since last year shows: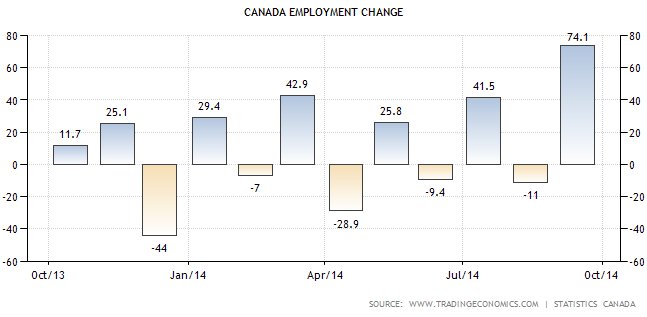 (source: tradingeconomics.com; click to enlarge)
1) September showed the biggest job growth this year.
2) The trend has been going up. The negatives are less negative, and the positives are growing.
The unemployment rate also fell to its lowest point since 2009. 
The market gave CAD a boost after the jobs data.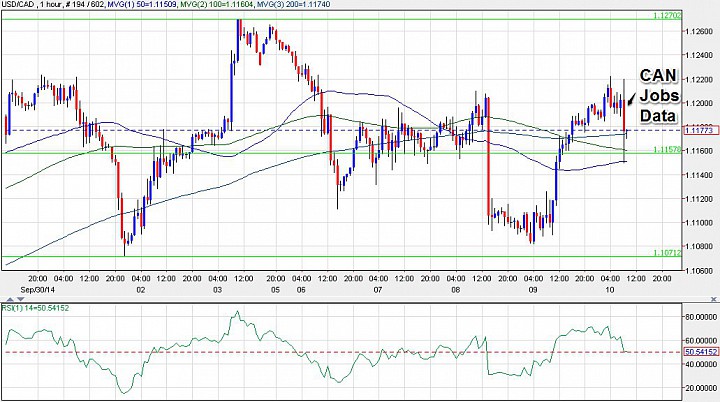 (USD/CAD 1H Chart)
The 1H chart shows that the market was bullish in the past couple of sessions, but stopped in its tracts at 1.1220, retreating after the CAN employment data. However, this initial reaction is seeing some buyers around the 1.1160 area, in the cluster of 200-, 100-, and 50-hour SMA. This is also an area of common support from earlier in the week. If price can push above 1.1220 last today or early next week, we should pretty much conclude that the jobs data is not a game-changer even though they are starting to be relevant for monetary policy implications. 
If price can break below 1.1140, the CAD is still resilient against the USD, but part of that could also be USD-correction.
Either case, today's jobs data probably should not effect the USD/CAD much outside of intra-session moves. It is probably going to consolidate below the 1.1278 high on the year for a while anyway.