Yesterday, the Fed raised the key interest rate as expected, but also sounded slightly more hawkish because of stronger inflation expectation. The FOMC is telling us that it is anticipating 3 rate hikes in 2017. 
Fed Hikes Rate; 3 Expected in 2017; Inflation Outlook Rises
EUR/USD Daily Chart 12/15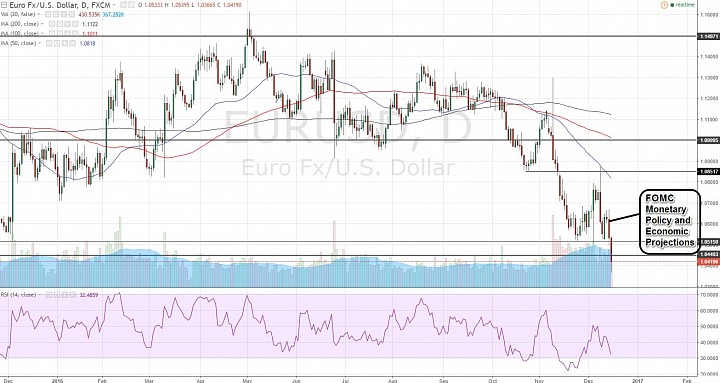 (click to enlarge)
New 52-Week Low:
- After the Fed announced it's latest monetary policy stance, the US Dollar gained across the board. 
- The EUR/USD fell sharply as we can see in the daily chart, where the prevailing market was already bearish.
- The breakout to the downside, to a new 52-week low, is therefore a sign of bearish continuation.
False Breakout Scenario:
- The pivot just before the FOMC event risk is around 1.0670. 
- If somehow the market keeps EUR/USD above 1.04 this week, and pushes it back above 1.0670 next week, we might have to consider this current break a false breakout.
- In this false breakout scenario, we can anticipate a bullish push at least back to the 1.09 area. 
EUR/USD Monthly Chart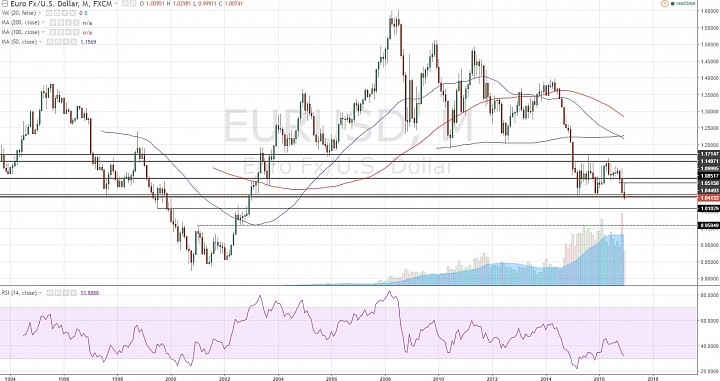 (click to enlarge)
Bearish Continuation Scenario:
- The monthly chart above shows that price is not only at a 52-week low, but the lowest since the very start of 2003. 
- In the bearish continuation scenario, the EUR/USD has downside towards the 0.96 area if the FOMC continues to be hawkish, and if the ECB also continues to be dovish. (This is the currently the case: The ECB lowered monthly bond purchases but extended the anticipated deadline, which effectively will create a larger total amount of bond buying)
- Now, before looking at the 0.96 pivot, we might want to consider a pivot around 1.01, and also the 1.00 (parity) level, which could be a psychological support level as well.