Global data center service provider, Equinix Inc. EQIX, recently announced the eighth phase expansion of its International Business Exchange (IBX) data center in Singapore, named SG2. Equinix will invest $41.8 million in this phase of the project's development. The expansion will enable the company to meet growing demand for data center services in the region.
The expansion of this data center is part of Equinix's latest string of expansion across the Asia-Pacific region. This is in sync with the company's recent development of data centers in Melbourne, Tokyo and Hong Kong. Including SG2, Equinix now operates 29 data centers in the Asia-Pacific region. Worldwide, the company's total number of IBX data centers has reached 179 across 44 countries.
With an area of over 47,666 square feet, the facility in Singapore can accommodate about 6,300 cabinets, including 1,400 cabinets in the eighth phase of operation.
Equinix's recent expansion of SG2 will enhance the accessibility of Equinix Cloud Exchange in Singapore, for direct connect to leading cloud service providers including Amazon Web Services, Oracle Cloud, Microsoft Azure and Google Cloud Platform. This will enable the company to meet the fast-growing demand for security and data services globally.
The aforementioned factor will help Equinix to offer customers the benefit of its cloud infrastructure, including a secure connection, outstanding scalability and infrastructure dependability.
The Equinix Cloud Exchange provides seamless, on-demand and direct access to multiple clouds, across multiple global networks. These virtual circuit connections allow customers to use the cloud of their choice with dedicated, low-latency connections.
We believe that the new data center will expand the company's footprint in the world's largest financial center and which is one of the fastest growing nations in the Asia-Pacific region.
The increase in demand is evident from the reports of independent research firms such as Gartner. According to this technology research firm, total public cloud services market in Asia-Pacific is expected to grow 17.7% in 2017 and reach $10 billion, up from $8.5 billion in 2016.
Shares of Equinix have been trading higher on a year-to-date basis. The stock returned approximately 22.3% compared with the Zacks REIT-Equity Trust industry's loss of 9.1%.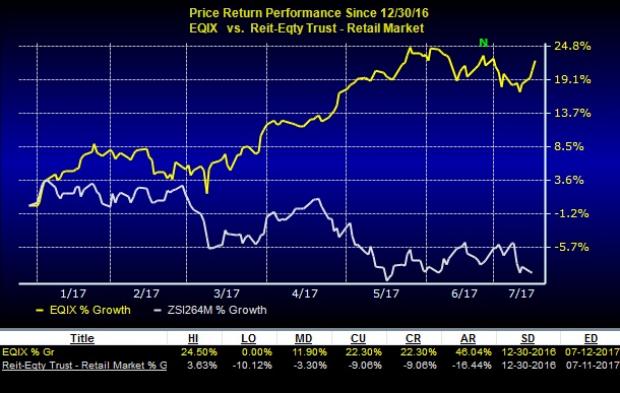 Bottom Line
Equinix remains positive on the growing demand for data centers. To this end, the company is expanding its IBX data centers globally and gaining popularity among tech companies, who are seeking data management. Thus, the company expects its total addressable market for retail data centers to increase at a CAGR of 8% from 2013–2017 and reach $24 billion. Based on this, Equinix projects a revenue growth rate of 10% through 2017.
Therefore, we believe that by expanding its data center assets, Equinix will be in a better position to capitalize on this opportunity. Moreover, the expansion will help the company to further strengthen its global footprint and bring in additional revenues.
Nonetheless, Equinix competes with established communications carriers such as AT&T T, Level 3 Communications LVLT and Verizon Communications VZ, which also operate date centers.
Currently, Equinix carries a Zacks Rank #3 (Hold).
You can see the complete list of today's Zacks #1 (Strong Buy) Rank stocks here.
(We are reissuing this article to correct a mistake. The original article, issued on Jul 11, 2017, should no longer be relied upon.)
Want the latest recommendations from Zacks Investment Research? Today, you can download 7 Best Stocks for the Next 30 Days.
Click to get this free report
Equinix, Inc. (EQIX): Free Stock Analysis Report
AT&T Inc. (T): Free Stock Analysis Report
Level 3 Communications, Inc. (LVLT): Free Stock Analysis Report
Verizon Communications Inc. (VZ): Free Stock Analysis Report
To read this article on Zacks.com click here.
Zacks Investment Research