Fundamental Releases:
For the USD, there won't be many top-tier risk events like FOMC statements. However, there are a few that can be movers and shakers at least within the global trading session they are released on.
Monday is Memorial day in the US. It could be a thin trading day, but that does not always translate to a quiet day. There can still be geopolitical events. In this case, uncertainty usually strengthens the USD.

Durable Goods Orders 8:30AM ET, 5/27

Forecast: -0.7%
Previous: 2.9% (revised up from 2.6%)
Core Durable Goods:
Forecast: 0.2%
Previous: 2.4% (revised up from 2.0%)
CB Consumer Confidence index 10:00AM ET, 5/27:
Forecast: 83.2
Previous: 82.3

(source: tradingeconomics.com)
The graph on tradingeconomics.com show an improving trend in consumer confidence since 2009. Continuing improvement only helps nudge towards tightening of monetary policy by the FOMC. However, this confidence has to translate to real growth and improved employment if it is to have policy impact.

There are no important economic releases from the US on Wednesday, 5/28.
Prelim Q1 GDP 8:30AM ET, 5/29
Forecast: -0.6%
Advanced GDP Reading (from 4/30): 0.1%
The advanced reading of 0.1% is expected to revised down to -0.6%.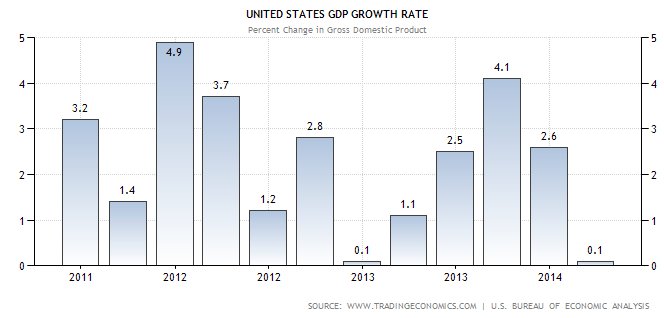 The market rhetoric about growth in Q1 is that it was limited partially by the harsh winter weather. This lowered expectation of Q1 data, limits the policy impact of even a deep downward revision like that. Last time GDP growth was negative was Q1 of 2011.
Core PCE Price Index:m/m for April
Forecast: 0.2%
Previous: 0.2%
This is the reading for inflation used by the FOMC. If the reading is above 0.3%, traders might price in a stronger USD because inflation will come into the radar for policy considerations. On the other hand, if it goes back to 0.1%, traders might expect the first rate hike in a while to come later than sooner in 2015.