Fitbit's (FIT) market success has been short-lived after it went public in July 2015. After reaching all-time August, the stock tumbled in line with the late August's market crash and kept falling afterwards: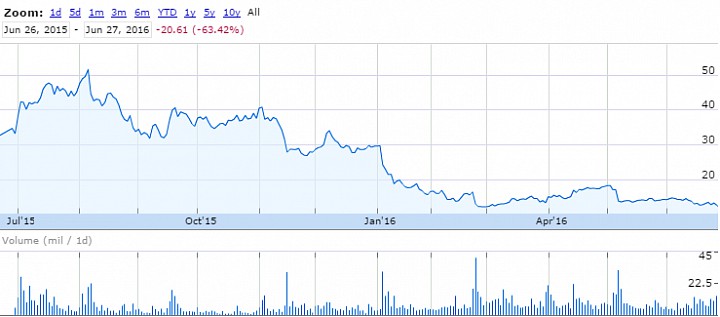 (Source: Google Finance)
The stock declined by 53% since IPO and by 73% since August.
Despite the volatility in Fitbit's market valuation, the company has been showing astonishing financial results, establishing a discrepancy between its market price and fundamental valuation: the top line has been growing phenomenally over the last three years:

(Source: 2015 Annual Report)
In
the first quarter of 2016
, Fitbit already showed revenues of $505.4M, compared with $336.8M in 2015. This statistics show that the market has a strong demand for the company's products, and the market as whole seems to be untapped.
However, R&D expenses are also growing and SG&A, too: in Q1 2016, R&D totaled $72M and SG&A amounted to $142M, growing by 222% and 151% YoY, respectively. These numbers have undoubtedly put pressure on the stock price. The bottom line has dropped by $11M in the first quarter of this fiscal year.
I wonder how much of the decline in the stock price is attributable to the overall market turbulence that has been tearing the markets over the last twelve months (August 2015, January 2016, the Brexit, to name a few clear moments). If we examine the numbers closer, we will learn that Fitbit owns about 25% of the total wearables market. We can view the company as the market leader. We have to admit that the company has lost market share over the last 52 weeks to competitors like Apple (AAPL) and Xiaomi.
The battle with Apple will tough because its brand is a lot stronger that Fitbit's. On the other hand, Fitbit can compete successfully against Xiaomi because of the new online sales channel developed with Alibaba (BABA). I think that the benefits will be seen in the near future. The company expects to have 10M customers in Asia in the short-term. Although this is ambitious, and I am waiting to see how the story develops. I think that these strategic expectations will drive the company's valuation higher as the company begins to pass the milestones. This year, Fitbit expects annual sales in the range between $2.5B and $2.6B, which is 40% higher than the numbers a year ago.
I encourage investors to start adding Fitbit's shares to their portfolios amid the Brexit turmoil. As per Yahoo Finance, the next-year`s price target is ~$22, which is about 100% higher than the current market price of the stock. As always, go ahead and hedge your holdings with option strategies like the options collar. In addition, if you do not want to accept the downside exposure, consider buying the February 2018 calls (you can also sell some short-term calls to help finance the trade).