Walmart (WMT) has been declining sharply. It has a more pronounced retreating in 2015 than its major competitor Kroger's (KR). Here's a take on WMT from thestreet.com:
Wal-Mart Stores (WMT) Stock Falls, Grocery Sales Pressured
Basically, WMT is in the middle of a major correction against a bullish trend from 2011. The monthly chart shows a better picture of this.
WMT Monthly Chart 9/23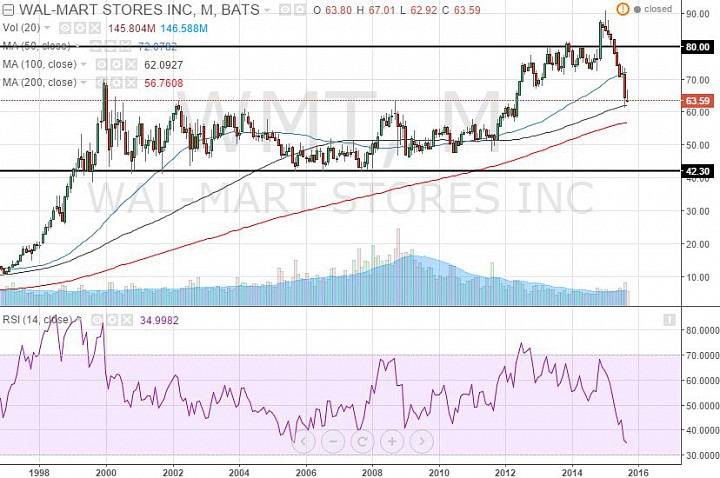 (click to enlarge)
The market in general is weak in 2015 and has some momentum to the downside in the rest of the year and into 2016. For WMT, the fundamentals show WMT under-performing, but does not show any glaring signs of downturn. We are likely just seeing a correction, so I would pay attention to some major long-term levels on the monthly chart. 
As far as the technical signals, WMT is showing sharp action to the downside, and does not have any signs of stopping yet. In the monthly chart, we can see that price is closing into familiar territory from 2000-2012, when WMT was essentially consolidating. 
Buy from 42-50: The 50 mark will be a key pivot within this consolidation. The next lower pivot will be around 42. Now, if the current downtrend does stretch towards 50, look for support. Personally, I am thinking about a buy here but with a stop below 40 and a target of 80. This would be a buy and hold strategy based on the technical support from the 2000-2012 price structure, and based on trust that WMT will not collapse. A break below 40 will likely require some major company news or a major downturn in stock markets in general. Both of these in my estimation are low probability events but not impossible. Therefore, buying from just above the 40 level provides some good reward to risk. 

Sell from 80: If the market returns to 80, I would consider selling, but the horizon of the outlook would be shorter than the horizon of my buy from 42-50 outlook. A sell from 80 is based on more of a short to medium-term bearish correction outlook. Leaning towards the conservative side, we can consider a sell around 80, with a stop just above 82 and a target just above 72.