First I want to highlight that you can watch my analyses and trade ideas also on TWITTER (@FlexibleTrader) and you can also watch my LIVE TRADES on YouTube (here). So be sure to check out MY TRADING STYLE in more details!
--------------------------------------------------------------------------------------------------------
The EUR/USD Currency Pair
jumped higher again after yesterday FOMC minutes, which confirms the longer-term uptrend and upward strength. Based on the prior price behaviour I would like to highlight some major price levels and to define some high-potential long and short scenarios.
Let us focus on LONG SCENARIOS first: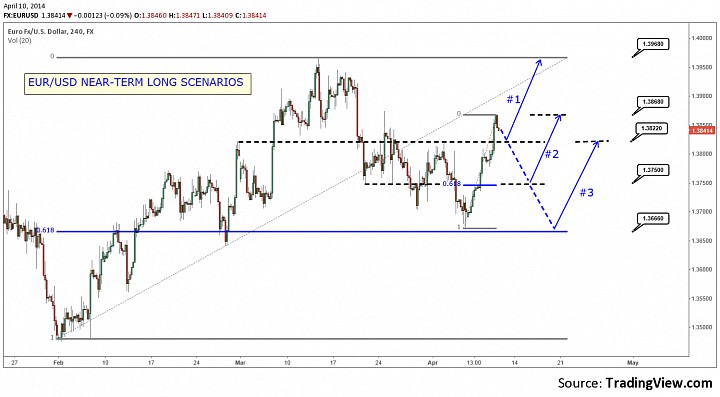 SCENARIO #1:
Since Euro breached 1.3822, which was a significant resistance, we can play a simple bounce off of this level, which has become a support now. A clear bounce might be a confirmation of strength continuation and then the price might head towards the major resistance at 1.3968. This level should be also an ultimate target for this long setup.
SCENARIO #2:
Based on the assumption that Euro is strong, a nice opportunity to go long is also at 1.3750, which is also a 61.8 Fibonacci level of the upswing. Then, I would definitely define the target at 1.3868 – HIGH of the swing.
SCENARIO #3:
Even if Euro retraces to 1.3666, which is the LOW of the swing, still it might be an opportunity to go long off that level. In this case the target might be 1.3822. But be catious! If the price closes strongly below 1.3666, it might be a time for the bears then.
Let us turn to some SHORT SCENARIOS also: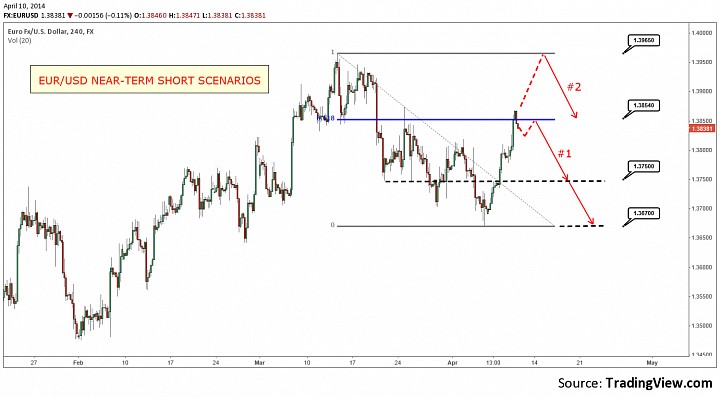 SCENARIO #1:
The price finds itself at a very interesting level around 1.3854, which is a 61.8 Fibonacci retracement ot the downswing. The first short opportunity might be emerging just now, so I would be interested in any retracement up showing some kind of weakness to enter short. Target for this setup might be at 1.3750 and 1.3670, in my opinion.
SCENARIO #2:
A high potential short setup might emerge also near the major resistance 1.3965 (or below 1.4000). So, look for any kind of weakness like a false break or a strong refusion of that high. First target for this potential short setup might be 1.3854, but the price might fall a way down further.
What are your favourites? I am looking forward to your feedback. 
---------------------------------------------------------------------------------------------------------
As usual, my trading idea is based on an uncoventional trading methodology used in our SMB Capital Forex and Futures Training Program.
For a deeper understanding you can join us on http://www.smbtraining.com/overview/forex-training
or you can watch my LIVE TRADING VIDEOS ON YOUTUBE.
In case of any questions or comments, be sure to send me an email or contact me via other social media as stated below.
Petr Suchanek
Forex, Futures & Options Trader
Email: psuchanek@smbcap.com
Twitter: @FlexibleTrader
StockTwits: http://stocktwits.com/FlexibleTrader
YouTube Channel: http://bit.ly/17jWiog
Training program: http://smbu.us/smbwho