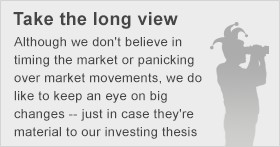 What's Happening: Shares of Intuit (NASDAQ:INTU) slumped on Friday after the company reported its fiscal fourth quarter results. The results were mixed, with Intuit falling short of analyst estimates for revenue, but the real news is that the company announced that it plans to divest various businesses as it transforms itself into a cloud-based company. At 10:45 AM Friday morning, the stock was down about 13%.
Why It's Happening: Intuit reported quarterly revenue of $696 million, up 7% year-over-year but quite a bit short of the average analyst estimate of $739 million. Profitability improved, with the company posting a $0.05 GAAP EPS, up from a $0.10 per-share loss during the same period last year.
Intuit announced that it will be divesting Demandforce, a cloud marketing product...
More