Target Corporation TGT is trying all means to rapidly adapt to the changes in the retail ecosystem. The retail landscape has been witnessing a sea change with the focus gradually shifting to online shopping. Nevertheless, retailers are now focusing more on enhancing omni-channel capabilities, optimizing store fleet and restructuring activities.
Evidently, technology is playing a major role and the perfect example of the same is the news of Whole Foods Market, Inc.'s WFM buyout by Amazon.com Inc. AMZN. Target did feel the pinch and the stock fall 5.1% on Jun 16, the day when the above news surfaced. We notice that in the past one month the stock has decreased 6% compared with the Zacks categorized Retail-Discount & Variety industry's decline of roughly 8.5%.
But this should not be your base to judge Target, which otherwise, remains well on track to fend off competition. In fact, if we look at the stock's performance in the past five days, it has improved 2.2%.
Strategic Initiatives Bode Well
We believe that Target's initiatives such as the development of omni-channel capacities, diversification and localization of assortments along with emphasis on flexible format stores, bode well. The company intends to deploy resources to significantly develop its online platform as well as store facilities to make shopping more convenient for customers.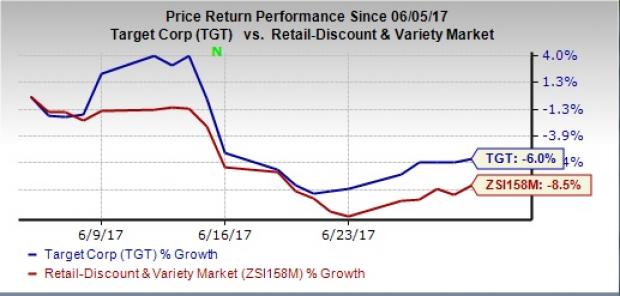 The company plans to expand its merchandise assortments with special emphasis on Style, Baby, Kids, and Wellness categories that are performing well. Moreover, management is keen on expanding the Food category. Target has also adopted an aggressive cost reduction strategy, including rationalization of supply chain, technology and process improvements.
The company intends to launch 12 new brands across its signature categories and has rolled out Target Restock program in Minnesota that allows customers to restock their shipping box with essential items online and get them delivered at their door steps by the next business day for a nominal charge. Target's move is being viewed as an effort to compete with Amazon's Prime Pantry.
Target continues to lay emphasis on developing flexible format stores to penetrate deeper into urban areas. The company plans to open 30 small format stores in fiscal 2017 and approximately 40 stores a year by fiscal 2019. During the first quarter of fiscal 2017, the company remodeled 21 existing stores and opened four new small format locations. It remains on track to complete the remodeling of 100 existing stores in fiscal 2017.
Bottom Line
Target is leaving no stone unturned when it comes to wooing customers. The stock currently carries a Zacks Rank #2 (Buy). Another favorably-ranked stock in the space is Burlington Stores, Inc. BURL, which has a long-term earnings growth rate of 15.9%. You can see the complete list of today's Zacks #1 Rank stocks here.
5 Trades Could Profit ""Big-League"" from Trump Policies
If the stocks above spark your interest, wait until you look into companies primed to make substantial gains from Washington's changing course.
Today Zacks reveals 5 tickers that could benefit from new trends like streamlined drug approvals, tariffs, lower taxes, higher interest rates, and spending surges in defense and infrastructure. See these buy recommendations now >>
Want the latest recommendations from Zacks Investment Research? Today, you can download 7 Best Stocks for the Next 30 Days.
Click to get this free report
Amazon.com, Inc. (AMZN): Free Stock Analysis Report
Target Corporation (TGT): Free Stock Analysis Report
Burlington Stores, Inc. (BURL): Free Stock Analysis Report
Whole Foods Market, Inc. (WFM): Free Stock Analysis Report
To read this article on Zacks.com click here.
Zacks Investment Research