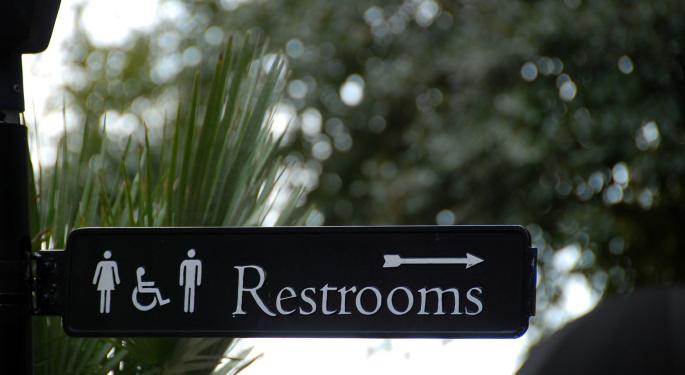 Last week, the NBA took a stand against what it sees as a discriminatory bill in North Carolina that limits transgender public restroom use. In response to the bill, the NBA has moved the location of the 2017 NBA All-Star Game out of Charlotte, North Carolina.
"While we recognize that the NBA cannot choose the law in every city, state, and country in which we do business, we do not believe we can successfully host our All-Star festivities in Charlotte in the climate created by HB2," the NBA said in a statement.
The NCAA may soon be following suit. On Friday, the association said that cities wishing to host future NCAA championships will have to submit a questionnaire addressing local discrimination laws.
The PGA has ruled that its 2017 championship will remain in North Carolina, but it also warned that future events could be moved out of the state.
Most NBA players are staying on the sidelines when it comes to the controversial issue, but a handful of players have publicly addressed the decision.
Voices From The NBA
"I know the league is in a position where they have to make a decision, and [commissioner] Adam Silver made one, and we support that," Curry said.
New Golden State teammate Kevin Durant took to Twitter Inc TWTR 1.03% with a similar message. "I recognize this was a tough decision for the NBA but I respect the choice," Durant wrote. "Discrimination of any kind cannot be allowed."
Jason Collins, who made history for becoming the NBA's first openly gay player, said, "The NBA has set the best kind of example and precedent moving forward for all to follow."
LA Clippers star Chris Paul addressed the topic on the team's Twitter account. "I live on the completely other coast now, and like I said, I was excited to have the opportunity to maybe go home for that game, maybe, and play. Some things are bigger than the game."
Even Charlotte Hornet's owner and NBA legend Michael Jordan has said he respects the NBA's decision. "We understand the NBA's decision and the challenges around holding the NBA All-Star Game in Charlotte this season," Jordan said in a statement. "There was an exhaustive effort from all parties to keep the event in Charlotte, and we are disappointed we were unable to do so."
The NBA has said that it would consider the possibility of Charlotte hosting the event again as soon as 2019 if circumstances change.
Did you like this article? Could it have been improved? Please email feedback@benzinga.com with the story link to let us know!
© 2016 Benzinga.com. Benzinga does not provide investment advice. All rights reserved.