After starting the year bearish, USD/CHF has stabilized since mid-March.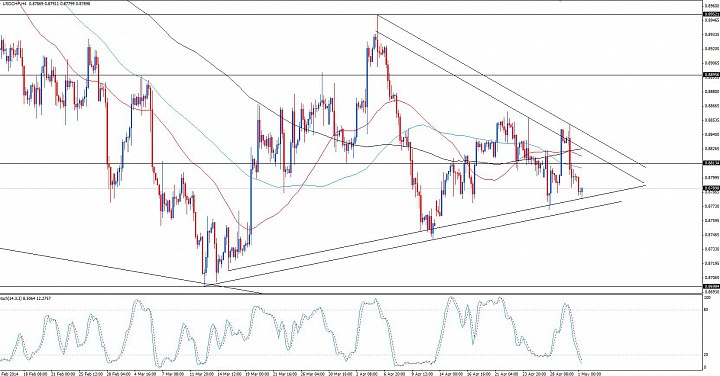 (usdchf 4h chart, 5/1)
Triangle
The 4H chart shows that after finding support around 0.87, USD/CHF has come up to 0.8950 and has since traded between these two levels. You also see a triangle, or congestion pattern as the market made higher lows and lower highs. 
It continued to do so this week, but price is now nearing the apex. 
Breakout:
Moving averages in the 4H chart are all clustered together, and going relatively sideways. This reflects a market in consolidation, ready to break out. Look for price to start staying on one side of the moving averages to confirm some commitment to a direction.
In the short-term a bullish break has the 0.8950 level in sight, while the bearish break opens up 0.87. 
The prevailing trend is bearish, and a break below 0.87 extends the trend toward the next support pivot level at 0.8567, the 10/23/2011 low.