TMUS and S are down hard on Softbank's lack of support for a deal. Buy TMUS. Avoid S. Verizon - VZ - and AT&T - T- are also attractive.
AMD plunged below the critical $11 support. $10 is a key inflection market price for the stock. Short-term uncertainty. Long-term certainty.
$AMD
, ADVANCED MICRO DEVICES / H1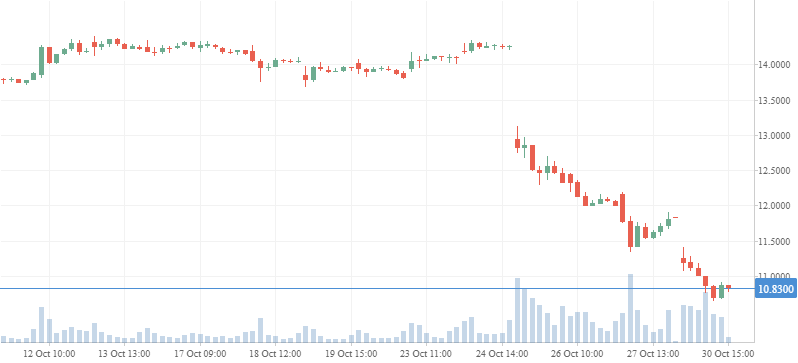 Intel's holding up. But should it? Ryzen's 3 and Threadripper are solid threats to Intel's latest updates.
NVDA traded above $200 @ $204 and never looked back. NVDA and INTC are making AMD look bad.
SNAP is still above $15. This won't last.
Retailers are down on JCP's results. Watch out below for Macy's - M.
Endo Intl's - ENDP - pre-market rally faded. ENDP is deeply undervalued. Same for TEVA. Same for VRX which reports soon (in Nov)
TRXC is still alive. Avoid. Buy ISRG. Speaking of pumps, avoid HMNY and MNKD. The play on KTOV is also over.
Celgene is back above $100. Huge cash flow growth. Outlook too conservative. Accumulate.
In the bank sector, BAC will break-out to new highs. Banco Santander - SAN - PT $7.00 - $9.00 next.
FSLR - First Solar - an early Value Pick for this group, is now $60/share. Time to raise the PT (price target).