Office Depot, Inc. ODP, which is slated to release third-quarter 2017 results on Nov 9, has seen shares plunge 47.6% in the past three months. Notably, the stock has underperformed the industry that declined 11.5% and the broader Retail-Wholesale sector that gained 4.5% in the same time frame.
How are Estimates Shaping Up?
The question lingering in investors' minds is whether this supplier of a range of office products and services will be able to post positive earnings surprise in the quarter to be reported. In the preceding quarter, it had missed the Zacks Consensus Estimate by 33.3%.
Let's look at earnings estimate revisions in order to get a clear picture of what analysts are thinking about the company prior to the release. The current Zacks Consensus Estimate for the quarter under review has been stable in the last 30 days, and is currently pegged at 14 cents down from 16 cents reported in the year-ago quarter.
Factors Likely to Hurt the Bottom Line
The office products sector has been grappling with multiple headwinds, and Office Depot is not fully immune to these. Demand for office products (paper-based) has been decreasing due to technological advancements. Smartphones, tablets and laptops are fast emerging as viable substitutes for paper-based office supplies.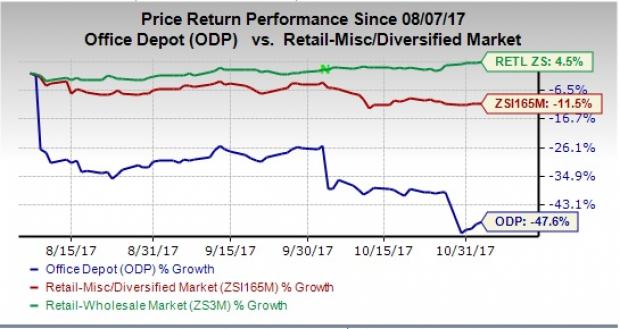 Dismal Top-Line Performance
Office Depot continues to battle a dismal top-line that missed the Zacks Consensus Estimate for the 12th straight quarter, when it reported second-quarter 2017 results. The company's total sales of $2,363 million lagged the Zacks Consensus Estimate of $2,460 million and fell 9% year over year, following a decline of 7% in the preceding quarter. Analysts polled by Zacks expect third-quarter revenue to be $2,612 million, reflecting a year-over-year decline of 7.9%.
After assessing the impact of recent hurricanes, sluggish sales and soft traffic during the back to school period and a temporary rise in the supply chain costs, Office Depot now expects total sales to decline in the band of 7-8% during the third quarter of fiscal 2017. Sales for Business Solutions Division are anticipated to tumble between 5% and 6% in constant currency.
Declining Comps
Stiff competition from online retailers, loss of customers in Business Solutions Division and lower traffic count in retail stores are making things tough for Office Depot. We note that the company has been witnessing dismal comparable-store sales run for quite some time now. A look at the company's performance in fiscal 2016 unveils that comps have declined 1%, 1%, 2% and 4% in the first, second, third and fourth quarters, respectively. In the first and second quarters of 2017, the same has tumbled 5% and 6%, respectively. Management expects comps to decline in the range of 5-6% during the third quarter.
Remedies Undertaken
Office Depot has undertaken a strategic review of business operating model, growth prospects and cost structure to bring itself back on growth trajectory. The company now intends to focus on core North American market. It is also closing underperforming stores, reducing exposure to higher dollar-value inventory items, shuttering non-critical distribution facilities, concentrating on e-commerce platforms as well as focusing on providing innovative products and services. The company by increasing its penetration into adjacent categories and enhancing share of wallet with existing customers intends to boost sales in the contract channel.
With respect to the cost containment effort, Office Depot is employing a more efficient customer coverage model, focusing on lowering indirect procurement costs as well as general and administrative expenditures, and also gaining from its U.S. retail store optimization plan. Office Depot recently acquired CompuCom Systems that help it acclimatize to the fast changing retail landscape along with providing enterprise-level tech services and products to customers.
Office Depot, Inc. Price, Consensus and EPS Surprise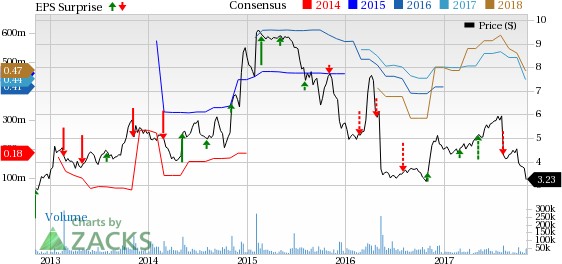 Office Depot, Inc. Price, Consensus and EPS Surprise | Office Depot, Inc. Quote
What Does the Zacks Model Unveil?
Our proven model does not conclusively show that Office Depot is likely to beat earnings estimates this quarter. This is because a stock needs to have both a positive Earnings ESP and a Zacks Rank #1 (Strong Buy), 2 (Buy) or 3 (Hold) for this to happen. You can uncover the best stocks to buy or sell before they're reported with our Earnings ESP Filter.
Office Depot has a Zacks Rank #4 (Hold) and an Earnings ESP of 0.00%. This makes surprise prediction difficult.
Stocks Poised to Beat Earnings Estimates
Here are some companies you may want to consider as our model shows that these have the right combination of elements to post an earnings beat:
Burlington Stores, Inc. BURL has an Earnings ESP of +1.58% and a Zacks Rank #2. You can see the complete list of today's Zacks #1 Rank stocks here.
The Home Depot, Inc. HD has an Earnings ESP of +0.76% and a Zacks Rank #2.
Abercrombie & Fitch Co. ANF has an Earnings ESP of +6.38% and a Zacks Rank #3.
Wall Street's Next Amazon
Zacks EVP Kevin Matras believes this familiar stock has only just begun its climb to become one of the greatest investments of all time. It's a once-in-a-generation opportunity to invest in pure genius.
Want the latest recommendations from Zacks Investment Research? Today, you can download 7 Best Stocks for the Next 30 Days.
Click to get this free report
Home Depot, Inc. (The) (HD): Free Stock Analysis Report
Abercrombie & Fitch Company (ANF): Free Stock Analysis Report
Burlington Stores, Inc. (BURL): Free Stock Analysis Report
Office Depot, Inc. (ODP): Free Stock Analysis Report
To read this article on Zacks.com click here.
Zacks Investment Research