Dollar rebound, volatility derail efforts to normalize policy
Derivative markets see rate cut more likely than hike in 2016
Circle Jan. 31, 2018, on the calendar. That's the soonest the Federal Reserve hikes next.
At least if money market derivatives are to be believed.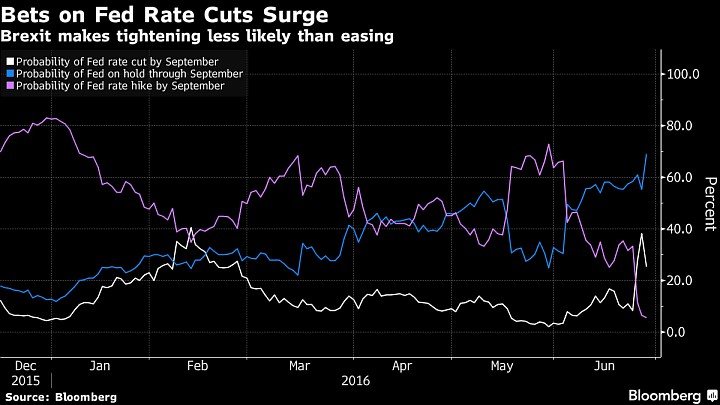 Traders, who have consistently been better at projecting the path of interest rates than the Fed itself, are now pricing in a greater probability that policy makers will cut rates in upcoming meetings than raise them. They don't assign more than a 50 percent chance of an increase until the beginning of 2018, and don't price in a full rate hike until the final quarter of the year.
The sea change in outlook for central bank policy comes after global equities and commodities plunged while government bonds and the dollar surged following Britain's vote to quit the European Union. That's tightened financial conditions in the world's largest economy, driven down inflation expectations and dimmed the outlook for global growth.
"The market is pricing in a non-trivial probability of a Fed rate cut over the next couple of months," said Aaron Kohli, a fixed-income strategist in New York at BMO Capital Markets, one of the 23 primary dealers that trade with the central bank. "The Fed is really boxed in now, so the market doesn't even begin to price in any real chance of hikes until mid-2017."
For more on the...
More