Nordstrom, Inc. (JWN) just released its second-quarter fiscal 2017 financial results, posting earnings of $0.65 per share and revenues of $3.72 billion. Currently, JWN is a Zacks Rank #2 (Buy) and is up 1.76% to $45.66 per share in trading shortly after its earnings report was released.
Nordstrom:
Beat earnings estimates. The company posted earnings of $0.65 per share, beating the Zacks Consensus Estimate of $0.62 per share.
Narrowly missed revenue estimates. The company saw revenue figures of $3.72 billion, falling just short of our consensus estimate of $3.73 billion.
Retail gross profit, as a percentage of net sales, of 34.1 percent decreased 25 basis points compared with the same period in fiscal 2016. This primarily reflected higher occupancy expenses related to new store growth for Nordstrom Rack and Canada in addition to higher loyalty expenses during the Anniversary Sale. This was partially offset by improved merchandise margins, reflecting the continued strength in regular price selling. Net sales growth of 3.5 percent exceeded inventory growth of 2.2 percent.
In the Nordstrom Rack brand, which consists of Nordstrom Rack stores and Nordstromrack.com/HauteLook, net sales increased 9.8 percent and comparable sales increased 3.1 percent. The East was the top-ranking geographic region.
For the rest of fiscal 2017, the company projects a 4% increase in net sales compared to its previous estimate in the range of 3-4%. The projection for earnings per diluted share for the year increased from the range of $2.75 to $3.00, to $2.85 to $3.00.
Here's a graph that looks at JWN's Price, Consensus and EPS Surprise:
Nordstrom, Inc. Price, Consensus and EPS Surprise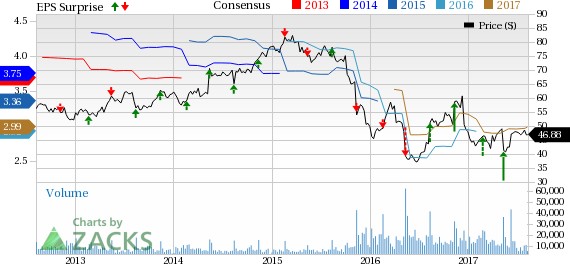 Nordstrom, Inc. Price, Consensus and EPS Surprise | Nordstrom, Inc. Quote
Nordstrom, Inc. is one of the nation's leading fashion specialty retailers, with stores located in a number of states, including full-line stores, Nordstrom Racks, Faconnable boutiques, and free-standing shoe stores. Nordstrom also operates Faconnable boutiques throughout Europe. Additionally, Nordstrom serves customers through its online presence and through its direct mail catalogs.
Check back later for our full analysis on JWN's earnings report!
One Simple Trading Idea
Since 1988, the Zacks system has more than doubled the S&P 500 with an average gain of +25% per year. With compounding, rebalancing, and exclusive of fees, it can turn thousands into millions of dollars.
This proven stock-picking system is grounded on a single big idea that can be fortune shaping and life changing. You can apply it to your portfolio starting today. Learn more >>
Want the latest recommendations from Zacks Investment Research? Today, you can download 7 Best Stocks for the Next 30 Days.
Click to get this free report
Nordstrom, Inc. (JWN): Free Stock Analysis Report
To read this article on Zacks.com click here.
Zacks Investment Research