In July 2013 Morgan Stanley presented favorable financial results for 6m2013 which exceeded expectations. It achieved significant year-over-year revenue growth in each of their major segments: Institutional Securities, Asset Management, Wealth Management. Main drivers for revenue growth are growth in Wealth Management and Institutional Securities segments, strategic partnership with MUFG (Mitsubishi UFG Financial Group), durable funding, strong capital and liquidity. One of the most important events is the acquisition of the remaining 35% stake in Morgan Stanley Smith Barney Joint Venture completed in June, which positively affected the results of Wealth Management segment for the 2nd quarter, moreover, the Company expects deeper and more efficient markets for both institutional and retail clients.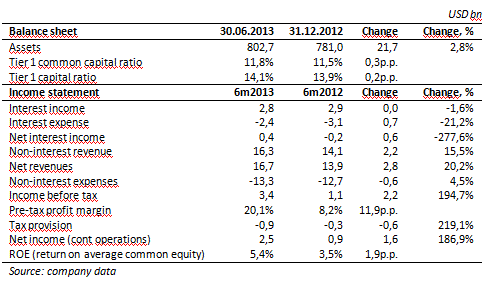 Total assets grew by 2,8% to $802,7bn for 6 months, Tier 1 common capital ratio changed from 11,5% to 11,8% while Tier 1 capital ratio increased by 0,2p.p. to 14,1%. Interest income for the period slightly decreased by 1,6%y/y while interest expense decreased by 21,2%y/y which led to net interest income increase to $389mn (as compared with $219mn loss for 6m2012). Non-interest revenue also significantly grew by 15,5% to $16,3bn. Thus, net revenues rose to $16,7bn (+20,2%y/y). The result included the Positive Impact from the Widening of Morgan Stanley's Debt-Related Credit Spreads (DVA), net revenues excluded this figure equals $16,8bn. The increase of non-interest expenses by 4,5% to $13,3bn is comparably low. As the result, net income from continuing operations for 6m2013 amounted to $2,5bn against $0,9bn for 6m2012. Strong pre-tax profit margin of 20,1% (as compared with 8,2% for 6m2012) indicates of good operating performance. One more positive factor is improvement in ROE which increased by 1,9p.p. to 5,4% and the Company reiterates their target of ROE at 10%.
In summary, MS continues to increase their forecasts and targets and permanently improves its financials: some highest results for several years were achieved such as highest margin level. The management of the Company noted that they managed to progress in six strategic priorities that would drive ROE to greater than 10%.
Consensus target price is 29,77$, current upside risk equals 11%, short-term goal – 29,2$.