Alphabet Inc.'s GOOGL third-quarter diluted non-GAAP earnings of $9.57 exceeded the Zacks Consensus Estimate of $8.43. Also, earnings increased 91.0% sequentially and 32.0% year over year.
The Internet powerhouse reported decent top-line numbers. Net revenues, excluding total traffic acquisition cost or TAC (TAC is the portion of revenues shared with Google's partners and amounts paid to distribution partners and others who direct traffic to the Google website), came in at $22.27 billion, increasing 6.5% sequentially and 21.9% year over year. The top line beat the Zacks Consensus Estimate of $21.94 billion.
On the Other Bets front, most of the businesses included there are in early stages. However, it is gradually picking up.
Following strong third-quarter earnings, share price jumped 2.78% in the after-hours trading. Also, Alphabet's shares have returned 65.3% year to date, outperforming the industry's gain of 46.3%.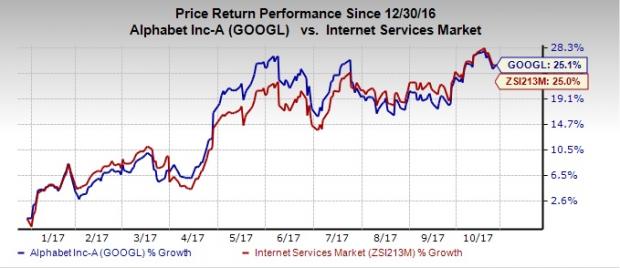 The primary drivers of the Google business haven't changed. Pricing remains under pressure both on account of nagging FX concerns as well as continued strength in mobile and TrueView. However, volumes are encouraging as total paid click growth of 47% remains a reassuring number.
Google continues to enjoy strength in the mobile platform. One of the drivers is Accelerated Mobile Pages (AMP), which is being accepted by a number of publishers and sites across the world. Management is focused on driving mobile experiences and the company is well positioned to pick up strong intent-to-buy signals by studying mobile searches from its huge database. As a result, direct response marketers continue to show interest in it.
The company also said that Google Cloud is generating substantial revenue growth, reflecting the ongoing momentum in the business.
The company has greater control on the browser through Android as well as distribution agreements with Apple AAPL. However, upcoming threats should not be ignored. Apple might not renew its agreement. Also, Microsoft MSFT Windows 10 has been increasing its overall search market share. Facebook FB graph search and the social network could also take away advertising dollars and Amazon AMZN already takes care of most product searches.
YouTube continues to remain a strong contributor, benefiting from growth in online video consumption. More than a thousand creators are currently engaged with the platform, bringing in a thousand subscribers every day.
Finally, Google platforms like Android, Chrome and Daydream continue to help it in drawing more users and selling more ads.
The Numbers in Detail
Revenues
Gross total revenues of $27.8 billion were up 6.8% sequentially and 23.7% year over year (up 24% in constant currency or CC). The increase was primarily driven by strength in core advertising business.
Google Segment
The segment includes search, advertising, Play, hardware and Cloud & Apps.
Coming to the search business, revenues from Google-owned sites increased 7.0% on a sequential basis, while that from partner sites increased 2.2%, resulting in an increase of 6.1% in total advertising revenues. However, Google-owned sites and partner sites grew 22.6% and 16.3%, respectively, year over year, and accounted for 71% and 16% of quarterly revenues.
Management said that mobile search continued to benefit from improvements in ad formats and delivery initiated in the third quarter of 2015 as well as remained optimistic about search revenue growth on both tablets and desktops.
Other revenues increased 10.2% sequentially but increased 40.0% year over year, accounting for 12.3% of third-quarter revenue.
Other Bets Segment
Alphabet broke up the segment in the March quarter of 2016. The segment includes Fiber, Verily, Calico, Nest and incubation activities in X Labs. Revenues were up 21.8% and 53.3% year over year.
This segment is gaining momentum and has performed well in the second quarter.
Total traffic acquisition cost, or TAC was up 8.1% sequentially and 31.6% year over year.
TAC paid out to network partners increased 1.9% sequentially and 18.2% year over year. Given that mobile search carries higher TAC, the increase in mobile search revenue is driving related TAC according to management.
TAC for distribution arrangements was up 17.2% sequentially and 54.0% year over year.
Net advertising revenues, excluding TAC was up 5.6% sequentially and 18.7% year over year.
Margins
Gross margin of 59.9% decreased 20 bps sequentially and 140 bps from the year-ago quarter.
Price declines remained negative in both sequential and year-over-year comparisons as the mix continued to move toward lower-margin business.
Cost per click (CPC) was up 1% but down 18%, respectively, from the previous and year-ago quarters. On a sequential basis, CPC was up 1% on Google sites but remained flat on network sites. On Google sites, CPCs were down 21% from the year-ago quarter, while network CPC declined 5%.
Paid clicks grew 6% sequentially and 47% year over year, driven partly by growing volumes of mobile and TrueView ads on YouTube. Google sites paid clicks grew 7% and 55%, respectively, from the previous and year-ago quarters. Network paid clicks increased 2% sequentially and 10% from the year-ago quarter.
Operating expenses of $8.84 billion increased 0.8% sequentially and 10.7% year over year. The operating margin was 28.0%, up 162 bps sequentially and 233 bps from the year-ago quarter.
Alphabet reported net income of $6.73 billion compared with $3.52 billion in the previous quarter and $5.06 billion in the year-ago quarter. GAAP earnings of $9.57 per share were up from $5.01 in the previous quarter and $7.25 in the year-ago quarter.
Balance Sheet
Alphabet has a solid balance sheet, with cash and short-term investments of around $100.1 billion, up $5.43 billion from the second quarter. The company generated around $9.87 billion of cash from operations in the third quarter and spent $3.5 billion on capex, netting a free cash flow of $6.3 billion.
Alphabet also spent $130 million on acquisitions and $2.7 billion to repay some debt.
Zacks Rank
Alphabet carries a Zacks Rank #3 (Hold). You can see the complete list of today's Zacks #1 Rank (Strong Buy) stocks here.
Wall Street's Next Amazon
Zacks EVP Kevin Matras believes this familiar stock has only just begun its climb to become one of the greatest investments of all time. It's a once-in-a-generation opportunity to invest in pure genius.
Want the latest recommendations from Zacks Investment Research? Today, you can download 7 Best Stocks for the Next 30 Days.
Click to get this free report
Amazon.com, Inc. (AMZN): Free Stock Analysis Report
Facebook, Inc. (FB): Free Stock Analysis Report
Alphabet Inc. (GOOGL): Free Stock Analysis Report
Apple Inc. (AAPL): Free Stock Analysis Report
Microsoft Corporation (MSFT): Free Stock Analysis Report
To read this article on Zacks.com click here.
Zacks Investment Research