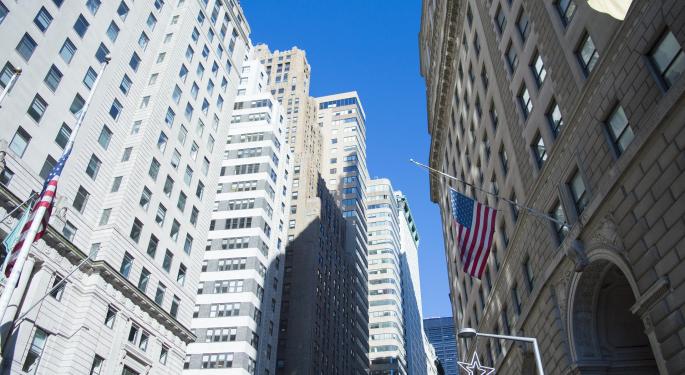 Below is a tool used by the Benzinga News Desk each trading day -- it's a look at everything happening in the market, in five minutes. Apply for daily AM access by clicking here or email minutes@benzinga.com.
Macros Focus
Oil prices also ticked higher Tuesday morning as Brent crude futures gained $0.75 to trade at $44.38 per barrel and U.S. crude futures gained $0.45 to trade at $43.89 a barrel.
Asian stocks were mostly higher on Tuesday, led by a 2.15 percent gain in Japan's Nikkei index. Japan's Finance Minister Taro Aso said the government is prepared to intervene in the currency market if the nation's currency begins to hurt the economy.
President Barack Obama will become the first sitting U.S. president to visit Hiroshima, as well as Japan after the conclusion of the G-7 Summit later this month.
Turnover on Chinese commodity exchanges surged by $183 billion. As Bloomberg reports, traders are starting to withdraw as government deters speculation.
MarketWatch posted a pretty interesting look at two centuries of U.S. immigration in "one mesmerizing graphic."
BZ News Desk
Some of last night's and this morning's notable earnings report:
SolarCity SCTY 24.85% Reports Q1 Adj. EPS $(2.56) vs $(2.31) Est. Q1 Sales $122.57M vs $108M Est.
Rackspace RAX 2.75% Reports Q1 Adj. EPS $0.34 vs $0.22 Est., Sales $518.1M vs $519M Est.
WWE WWE 1.29% Reports Q1 EPS $0.18 vs $0.10 Est., Sales $171M vs $170.6M Est.; Sees Q2 Average Paid Subs ~1.5M, Adj. OIBDA $5M-$9M
SodaStream SODA 14.32% Reports Q1 EPS $0.29 vs. Est. $0.11, Rev. $100.9M vs. Est. $89M
After today's closing bell, Disney DIS 0.85% is the one to keep an eye on. CNBC pundits recently discussed if investors are overreacting to the company's ESPN segmentation loss.
Find out what's going on in today's market and bring any questions you have to Benzinga's PreMarket Prep.
Sell-Side Themes
The Street was buzzing about SolarCity's and LendingClub's 20+ percent drops. Check Benzinga throughout the day for more analysis.
Sell-Side's Most Noteworthy Calls
Deal Talk
Recode scoop: The second round of bidders in the sale of Yahoo YHOO 0.27% have begun holding all-day meetings with Yahoo's top management, including CEO Marissa Mayer, who has been taking front and center stage of the proceedings, according to sources. Long meetings have taken place over the last two weeks and continue this week.
Medivation MDVN 1.07% will actively seek to sell itself after the U.S. cancer drug maker rejected a $9.3 billion takeover offer from France's Sanofi SNY 1.06%, people familiar with the situation told Reuters. The San Francisco-based company has agreed to open its books to both Pfizer PFE 0.86% and Amgen AMGN 0.51%, those people said.
In The News
"Hillary Clinton might be on the way to the Democratic presidential nomination but she enters territory that could be considered more favorable to Bernie Sanders on Tuesday with the West Virginia primary," CNN says. "And for the first time on the Republican side, there's only one candidate in the race -- but that doesn't mean there's consensus. Republicans in West Virginia and Nebraska will offer the first glimpse at whether the GOP can rally behind Donald Trump in a general election."
Migrants are trying to make a living on the Greek side of the Macedonian border, where about 10,000 people have set up Europe's biggest refugee camp and are showing signs of settling in for the long term. They are turning to business to survive.
A better prostate cancer test? Wall Street Journal dives into several new prostate cancer tests that aim to reduce needless biopsies and unnecessary treatments by sorting out harmless from aggressive tumors.
Blogosphere
Bitcoin isn't the answer to Central Bank woes. Leonid Bershidsky says, "This imaginary world of effectively socialized money is being seriously discussed by researchers and central bankers alike."
"You have built a business that works really well for you and for Google, but it doesn't work well for artists," legendary manager Irving Azoff wrote in an open letter to Google's GOOGL 0.84% YouTube.
Redditors are debating Tesla's TSLA 1.35% cash flow. One user says, "If you look at a short term and long term liquidity analysis it's all red flags. Imminent bankruptcy."
Trending
SCTY AGN BBRY LL OMER KNDI GPS DIS SEDG WWAV SODA CROX NLNK VNET DF [StockTwits]
It was reported that Steph Curry will win the NBA's Most Valuable Player award for the second straight season. In true MVP fashion, the shooting star returned to the Golden State Warriors lineup last night, scoring 40 points off the bench and leading the team to an overtime victory in the second round of the NBA playoffs.
© 2016 Benzinga.com. Benzinga does not provide investment advice. All rights reserved.