No single candidate can claim a thumping win in the third prime-time Republican presidential debate, broadcast on Wednesday by CNBC, yet there can be little doubt about who the night's biggest losers were: the moderators themselves and the media more broadly.
In all, the 10 candidates on stage attacked the moderators' questions and the media at least 14 times, or as often as they went after President Barack Obama, according to an analysis of a Federal News Service rush transcript conducted by Bloomberg Politics in partnership with Adam Tiouririne (
https://twitter.com/Tiouririne
) of Logos Consulting Group. He advises senior business executives on high-stakes communication, grounded in his research about how leaders perform at their most important—and most widely broadcast—moments.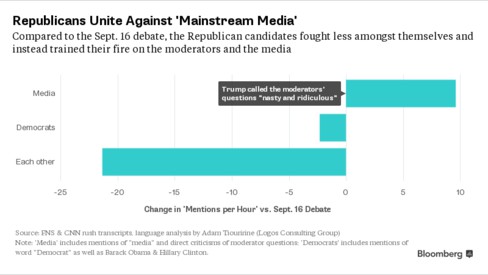 Top Talkers
The data and the pundits are largely in agreement that Florida Senator Marco Rubio had a good night. He received more questions from the moderators and invitations to rebut rivals than anyone save billionaire...
More