So far today's trading session has been a repeat of what happened overnight on Monday, when following a weak start on even more weak Chinese data, US equities soared on the first trading day of the month continuing their blistering surge since that dreadful September payrolls report, which as we showed was mostly catalyzed by a near record bout of short's being squeezed and covering, which accelerated just as the S&P broke the 2100 level.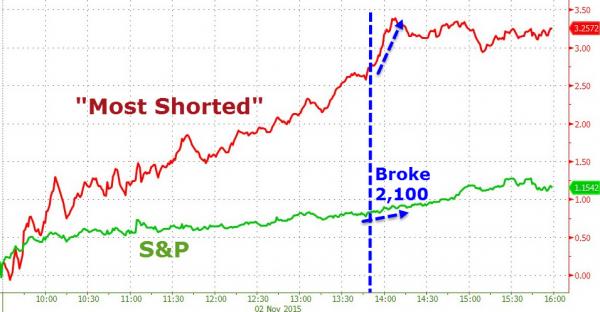 So will we see another USDJPY driven marketwide levitation, with another VIX smash and a short squeeze as kicker today? One thing we won't get is a boost from the RBA, which kept its benchmark interest rate unchanged at a record-low 2 percent as reported previously, despite 12 out of 29 economists predicting a rate cut.
RBA Governor Glenn Stevens talked up the prospects for an improvement in economic conditions, causing traders to push back bets on when the next cut might happen into the first quarter of 2016. The Aussie rose against all 16 of its major peers. In 2015 it's dropped 12 percent against the U.S. dollar. What was most interesting about the RBA announcement, however, was not what happened after the announcement, but the usual HFT mockery in the AUDUSD just before as shown in the chart before. We are confident the Australian regulators will once again find nothing wrong with this attempt by HFT algos to gauge market depth and set momentum, and headfake other algos, in what is an increasingly observed phenomenon ahead of key data.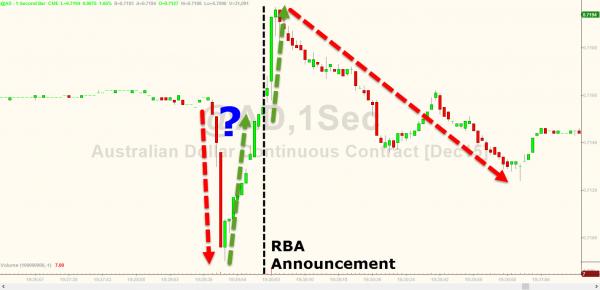 Also notable out of Asia was the news reported here first that key Apple supplier Pegatron has halted hiring on weak iPhone sales, refuting the contents of the infamous email Tim Cook sent to Jim Cramer on August 24 to halt the market crash. For now AAPL stock is clearly ignoring the China Daily news, although that may change during the day.
Elsewhere in Asia, equity markets traded higher following the strong close on Wall Street amid outperformance in energy and health care sectors, with risk sentiment further supported by encouraging PMI and construction data from the US. KOSPI (+0.5%) and ASX 200 (+1.2%) were lifted by the energy sector as it tracked the performance seen in the US, while Hang Seng (+0.9%) was supported by casino names, following reports that China may relax the visa regulation in Macau. Shanghai Comp. (-0.25%) trade was reserved as margin debt declined for the 2nd day, with the nation also continuing to the digest the recent soft Chinese PMI figures, while markets in Japan are closed due to Culture day.
European stocks are little changed as auto, real estate, financial equities declines offset by travel & leisure, insurance, oil & gas gains. 5 out of 19 Stoxx 600 sectors fall with autos, banks underperforming and travel & leisure, oil & gas outperforming. 47% of Stoxx 600 members decline, 49% gain.
Notable movers are Volkswagen, which is currently down over 3% in German trading after the EPA said yesterday that it has discovered more Volkswagen cars containing software that helped them cheat emissions tests. The most recently discovered batch of 10,000 vehicles that the EPA says are equipped with "defeat device" technology are 3-liter diesel engine cars, including several Volkswagen, Audi and Porsche 2014 to 2016 model years.
There were even bigger moves among Europe's bank which have continued their disappointing trend of late, with Standard Chartered falling under the hammer overnight, with its shares plunging as much as 8 percent after announcing 15,000 job cuts and a $5.1 billion rights issue. The bank reported a surprise third-quarter loss as loan impairments in India surged. Standard Chartered is aiming for savings of $2.9 billion by 2018 and will restructure or exit $100 billion of assets. New CEO Bill Winters is picking up the pieces from his predecessor's push into emerging markets. Standard Chartered derives most of its revenue from Asia. The shares have slumped 31 percent in 2015.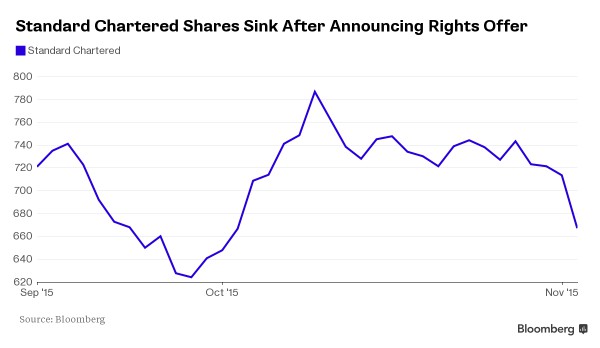 Then there was the largest Swiss Bank UBS, which several weeks after #2 Swiss bank Credit Suisse announced a major business overhaul and capital raise, also postponed a profitability target sending its shares 5% lower. The plan now is to achieve 15 percent return on tangible equity by 2017.
In Forex, the re-pricing of risks surrounding the ECB meeting in December saw the 1-month EUR/USD vol surge higher, with spot also under pressure given the sizeable cluster of expiring option strikes at 1.1000, said to be equivalent to around 1.6bIn. Also of note, the RBA refrained from announcing further monetary policy easing overnight which prompted broad based AUD strength, with the pair testing the 21 DMA line in the process. Unlike yesterday's stellar UK manufacturing PMI release, today's construction PMI data came inline and somewhat failed to reinforce growing calls for hawkish BoE.
Whether or not it is deemed a currency is irrelevant, but bitcoin soared overnight hitting a new 2015 high of 389 before paring some gains as the market learns about Chinese capital outflows and how these are facilitated with the digital currencys.
Looking at commodities, heading into the North American open, WTI and Brent crude futures are seen broadly higher, albeit marginally, supported by reports late yesterday that some OPEC members are calling for measures to support oil prices.
Key events on the US calendar today include the ISM NY reading for October, and September factory orders data and the November IBD/TIPP economic optimism reading. Later we'll get October vehicle sales data. Comments from the ECB President Draghi, who is due to give a speech at 6pm London time, will also be closely watched. Meanwhile earnings season continues with 28 S&P 500 companies set to report, including Kellogg and DaVita Healthcare. Over in Europe we've got 13 Stoxx 600 companies due to report including UBS.
In terms of trading, expect USDJPY levitation to lead to another low-volume melt up in stocks as the all time high in the S&P, now just over 1% away is retested.
More Top News:
TransCanada Keystone Pause Seen Giving Obama, Trudeau New Start: Co. asked Secretary of State John Kerry to suspend assessment, arguing it would allow State Dept. to await results of separate Nebraska review.
Activision to Buy Candy Crush's Maker in $5.9 Billion Deal: King Digital shareholders to get $18/share in cash, 16% premium to $15.54 close on Monday.
AIG Posts Loss, Eliminates Jobs as Icahn Calls for Breakup: 3Q net loss $231m, or 18c/shr; co. plans to cut as many as 400 senior-level jobs.
JPMorgan, BofA, Citigroup Among Big U.S. Banks S&P May Cut: Along with Wells Fargo, Goldman, Morgan Stanley, Bank of New York Mellon, State Street Corp., banks had senior unsecured, nondeferrable subordinated debt ratings placed on negative credit watch at S&P.
UBS Reorganizes Management, Postpones Profitability Target: Bank shaking up leadership, pushing profit goals further into future after reporting 3Q profit that more than doubled
Downed Russian Jet Suffered Prior Damage Linked to Other Crashes: Investigators will be taking close look at 2001 repair to plane's tail as it's one thing known to cause type of sudden midair breakup that occurred; Plane's Audio Data Has 'Uncharacteristic Noises': Interfax
Boeing, GE Would Be Blocked From Ex-Im Loans in Amendment: House members proposing >20 amendments to U.S. highway bill that would alter how ExIm Bank operates.
Gross's Bid at Redemption Set Back as Soros Pulls $490m: Soros money pulled as Janus Global Unconstrained Bond Fund lost 2% since Gross started running it, worse than 63% of similar funds.
BlueMountain, Longtime Valeant Holder, Says It Exits a Drugmaker: Fund said it exited position after shares plummeted, House Democrats sought to subpoena drug co. over high drug prices.
Market Wrap:
S&P 500 futures down 0.1% to 2093
Stoxx 600 up less than 0.1% to 377
MSCI Asia Pacific up 0.6% to 134
US 10-yr yield up less than 1bp to 2.17%
Dollar Index up 0.19% to 97.11
WTI Crude futures up 0.7% to $46.46
Brent Futures up 0.5% to $49.03
Gold spot down 0.2% to $1,132
Silver spot down 0.5% to $15.34
Bulletin Headline Summary from Bloomberg and RanSquawk
Lacklustre performance by stocks in Europe this morning, with financials underperforming following earnings by Standard Chartered
The re-pricing of risks surrounding the ECB meeting in December saw the 1-month EUR/USD vol surge higher, with spot also under pressure given the sizeable cluster of expiring option strikes at 1.1000
Going forward, market participants will get to digest the release of the latest US factory orders report, API crude oil inventories updated after the closing bell on Wall Street and also comments from SNB's Jordan, as well as ECB's Draghi
DB's Jim Reid completes the overnight wrap
Today's log sees markets having progressively improved from a weak Monday session in Asia. The Dow (+0.94%) edged back into positive territory YTD, while the S&P 500 advanced +1.19% and the Nasdaq 100 (+1.18%) clocked a fresh 15-year high – the first of the major US indices to move back to a multi-year high following the surging recovery from the August lows. Prior to this the Stoxx 600 had closed up +0.34% and is now back to 10% returns YTD. US credit had a strong day also with CDX IG a couple of basis points tighter, while another 11 deals priced in the IG primary markets yesterday amounting to nearly $8bn of issuance.
While corporate activity in the healthcare space was attributed to much of yesterday's stronger showing, energy stocks led gains despite a weak session for the energy complex. WTI finished down -0.97% and Brent (-1.55%) closed back below $49/bbl, while Natural Gas tumbled nearly 3%.
Much of the focus yesterday however was on the latest round of manufacturing data with the final October global manufacturing PMI's. In Europe the Euro area reading was revised up 0.3pts at the final count to 52.3 which puts it back at where it was in August. Germany's PMI was revised up 0.5pts to 52.1, while France's nudged down a modest 0.1pts to 50.6. The first reading out of Italy revealed a much better than expected 1.4pt rise to 54.1 (vs. 53.1 expected) while the UK posted a sharp 3.7pt rise to 55.5 (vs. 51.3 expected) which was the highest since June last year.
In the US the final October manufacturing PMI was revised up 0.1pts from the initial flash to 54.1, a full point up on last month. The latest October ISM manufacturing reading fell 0.1pts to 50.1 although a touch ahead of market expectations (50.0). The print was the joint-lowest since December 2012 with the details also interesting, with both new orders (52.9 vs. 50.1) and production (52.9 vs. 51.8) rising modestly but offset by a big drop in the employment component (47.6 vs. 50.5) which was the lowest reading for this series since August 2009. This of course comes before Friday's important employment report.
Treasury yields did nudge higher yesterday although in reality they were little moved post the data with the benchmark 10y yield finishing +2.9bps at 2.172%. The Atlanta Fed downgraded their Q4 GDP forecast for the US to 1.9% post the data from the initial 2.5% estimate, while December Fed rate hike expectations are unmoved relative to where we finished on Friday at 50%.
It's been a generally positive start for markets in Asia this morning, following the lead from the US last night. The Hang Seng is +1.27%, while the Kospi and ASX are +0.65% and +1.42% respectively. Gains are a bit more modest in China where the Shanghai Comp (+0.26%) are CSI 300 (+0.28%) are slightly higher. Markets in Japan are closed for a public holiday. Meanwhile the Aussie Dollar is up +0.8% after the RBA left rates on hold as expected, although the attached statement noted that the 'outlook for inflation may afford scope for further easing of policy, should that be appropriate to lend support to demand'.
Staying with data, the latest quarterly Fed Senior Loan Officer survey was released yesterday which on the whole was probably a touch soft. With regards to consumer lending, a 'small net fraction of banks' were said to have indicated that they were more willing to make consumer installment loans over the past three months, while a few large banks were said to have eased their standards for credit card loans. The survey did reveal a modest net fraction of banks reporting weaker demand across home-purchase loans. Banks reported little change in commercial and industrial lending standards, but of the modest number that had changed, tightening was more frequent. In particular, domestic respondents that tightened either standards or terms on commercial and industrial loans over the quarter were said to have cited a less favorable or more uncertain economic outlook as well as worsening of industry specific problems as reasons. Lending standards are a lead indicator for HY corporate defaults so we like to keep a careful eye on them.
Staying with HY, this morning we published our latest European HY monthly note where we take a look at the strong rebound in performance in October and note how this type of rebound has been fairly common in the face of the magnitude of sell-off we saw in September. We highlight how there seems to have been something of a flight to quality (within HY) with BBs comfortably outperforming single-Bs and CCCs in October as well as contrasting the performance of EUR HY with other risk assets. We also look at what are arguably positive developments in terms of technicals. Apart from a couple of weeks in July, issuance has been particularly muted since June and YTD index eligible redemptions have been in excess of €40bn therefore YTD net issuance (€13bn) is the lowest it has been in the past 4 years. Specifically since net issuance reached a YTD peak in April we have actually seen negative net issuance of more than €2bn. We also note that with index coupons somewhere in the region of €13bn for 2015 funds may receive about as much cash as there is issuance this year. This is very rare. When we also factor in recent inflows the technical backdrop looks to be supportive of further returns in HY as long as macro factors don't disappoint.
Earnings wise yesterday it was relatively quiet with just 19 S&P 500 companies reporting, of which 11 (58%) beat earnings expectations and 9 (47%) beat sales expectations. That puts the overall trend now (with 360 companies reported) at 74% and 45% respectively, little changed from Friday.
Before we take a look at the day ahead and staying on the micro theme briefly, headlines are circling now that both Porsche and Audi look set to be pulled deeper into the recent VW emissions scandal. The news has come about after the US Environmental Protection Agency has, according to Reuters, said that it is now investigating 3L engines used in larger and more expensive models of VW cars, as well as those in Audi and Porsche vehicles. The investigation looks set to continue and no doubt more details will emerge in due course. Interestingly this looks set to bring my recent car purchase into the cross-hairs although I stress it wasn't a Porsche!!
Looking at the today's calendar, there's little to note in the European session this morning while data-wise in the US this afternoon we kick off with the ISM NY reading for October, before we then get September factory orders data and the November IBD/TIPP economic optimism reading. Later on this evening we'll get October vehicle sales data. Comments from the ECB President Draghi, who is due to give a speech at 6pm London time, will also be closely watched. Meanwhile earnings season continues with 28 S&P 500 companies set to report, including Kellogg and DaVita Healthcare. Over in Europe we've got 13 Stoxx 600 companies due to report including UBS.