Shares of Apple (AAPL) have been consolidating since 2015 when price held under 135 and eventually fell to a low around 90.00 a year later in 2016. Since, then, AAPL's stock price has been rising, and the technical picture suggests more upside ahead.

AAPL Daily Chart 11/25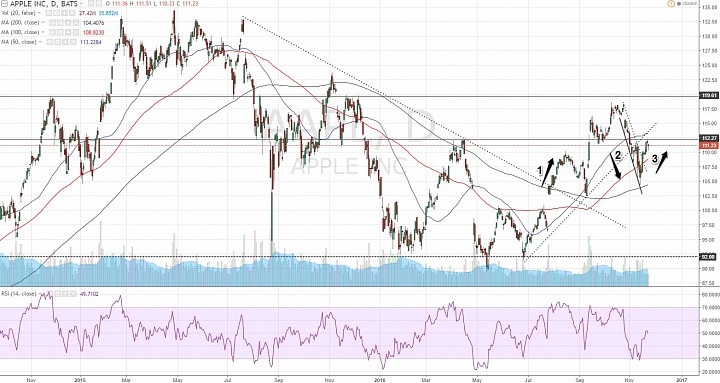 (click to enlarge)
Choppiness and breaks:
- Price action has been choppy in the past year. After all, AAPL is in a period of consolidation.
- Within this consolidation, there has been a falling trendline, which showed the lower highs during this period.
- 1. However, we had a breakout in July/August, and a new price high was made in October vs. the high in April. 
- 2. The May to October bull run then stalled and a bearish swing broke the rising speedline for this bull run. 
- 3. Then over the past couple of weeks, price found support at 104, and a bullish swing (note a v-shape reversal as well), has broken above the "flag" resistance, signaling bullish continuation.

I like the bounce off of 104. It is also a bounce off of the 200-day simple moving average (SMA), which is a bullish slingshot signal.