The past year has seen something of a reversal of fortunes for shares of Apple (NASDAQ:AAPL) and International Business Machines (NYSE:IBM). While Apple has outperformed IBM shares in recent years, the opposite has held true over the past 12 months.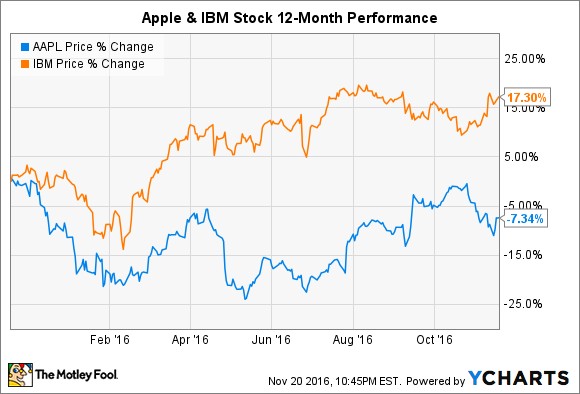 So, is Apple stock or IBM stock the more attractive opportunity today? Let's examine each of these tech giants across three important investment and business criteria to determine which stock is the better buy.
Financial fortitude
Both companies are well-established and hugely profitable enterprises. However, there can be little doubt that Apple outshines IBM when it comes to the strength of its financial resources. Here's a quick overview of the two companies' most pertinent balance sheet and leverage ratios.
| Company Name | Cash & Investments | Debt | Cash From Operations (TTM) | Current Ratio |
| --- | --- | --- | --- | --- |
| Apple | $237.4 billion | $87.0 billion | $65.8 billion | 1.35x |
| IBM | $14.9 billion | $42.4 billion | $18.5 billion | 1.20x |
Data source: Apple & IBM investor relations. TTM = trailing 12 months.
Importantly, as of its most recent quarter, $216 billion of Apple's cash and investments are held overseas to avoid paying repatriation taxes that could eat billions from the company's gross cash balance. As such, the number in the chart above overstates Apple's actual day-to-day liquidity, though Apple is confident its liquidity remains sufficient to fund its continued business needs.
IT giant IBM also adeptly manages its balance sheet. The company leverages its investment-grade credit rating as a source of cheap financing, and its strong cash generation allows it to do so without placing its liquidity in jeopardy. As perhaps the bluest of the blue chips, IBM's century-plus legacy of successful management makes its sensible capital structure unsurprising. In a showdown of financial fortitude, IBM would trounce most businesses. However, when compared against the most profitable company ever, IBM loses this battle through no fault of its own.
Winner: Apple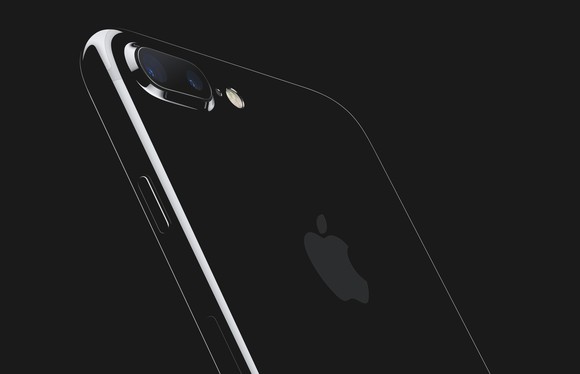 Durable competitive advantages
Although Apple and IBM enjoy identifiable competitive advantages, each company also has a weak point or two in their business models that investors should understand.
Regarding IBM's strengths, the company remains an absolute beast when it comes to R&D output. In fact, IBM was granted the most patents in the U.S. for the 23rd consecutive year in 2015. This commitment to research has allowed IBM to adapt and continually thrive in the constantly shifting world of technology. It's no accident that IBM has...
More