Nvidia is going to report its earnings after the closing bell today. During this quarter everybody was waiting for the huge step forward from them, and the stock climbed almost 40% over the last three months:
<!== INSTRUMENT %% %1440% ==!>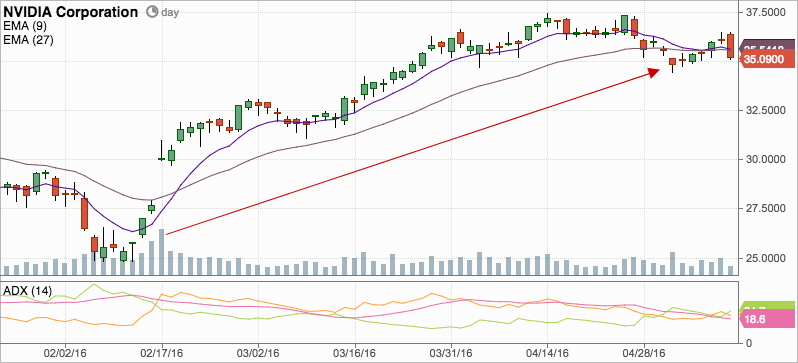 That's the right time for the company to prove that this growth is based on really great performance, hence good financial and operating metrics. Let's answer a few questions to get a better understanding of what we can expect from their earnings today. 
How did they report three months ago? 
Firstly, the stock jumped almost 10% after the earnings call, exceeding their revenue consensus by 7% and almost 10% EPS. The company beats their EPS estimates as well as revenue number numbers 3 quarters in a row, however, Q1 FY 2016 they missed both of them. 
EPS:

Revenue:

(Source: Financial Times)
The company has four main platforms: gaming, pro visualization, data center and auto. Three of them showed a great improvement last year, but pro visualization was the only one that dropped last year.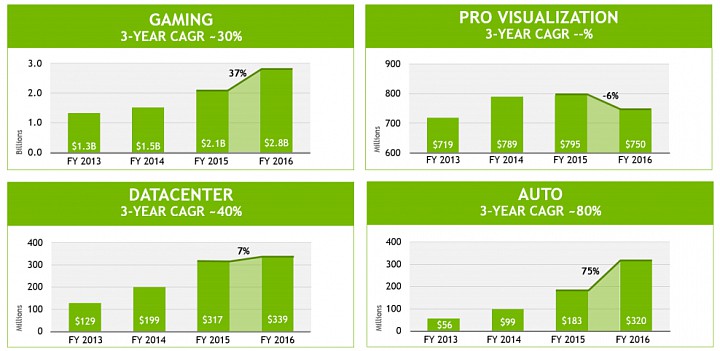 (Source: company's report)
Last year was a record year for the company, because they improved their revenue, gross profit and operating income to the highest levels: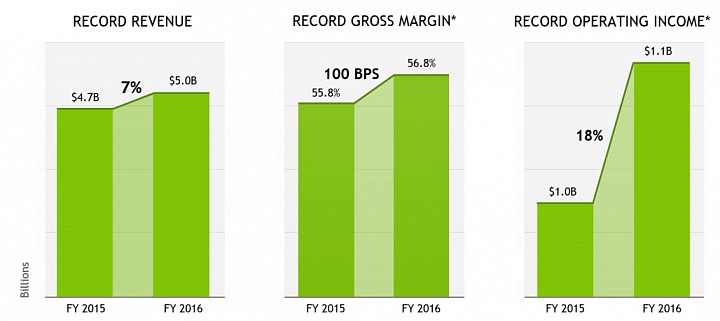 The only problem here is that Nvidia usually has a slowdown in revenue growth in Q1 each year. For example, in Q1 2015 the company recorded 4% decrease in revenue compared to the Q4 2014, in Q1 2016 this downfall was even greater - 8% compared to the Q4 2015.
What did happen with their business this quarter?
One month ago, Nvidia published a number of presentations about their operations in a number of sub-sectors. As we can see from the table above, the biggest concern is their pro visualization. I checked all their press releases and didn't find any significant changes in this sector, the only news I found was the job posting looking for the marketing manager for their professional visualization dep. 
However, we have some good news for gaming business: the company unveils Unveils GeForce GTX 1080, World's Most Advanced GPU. It didn't impact the company's business this quarter, because it will start selling this GPU on May 27. There is a number of different comments regarding this GPU, but the fact is that this is the first one supporting 4K monitors. People are very cautious about the technology progress, because in the most cases nowadays it is almost nothing under the great headline. Nvidia is a different story, it's a real improvement. 
So, to be honest, nothing has changed significantly in Q1 2017, so I am not sure that the company will be able to provide a higher growth rate in its revenue. As I've already mentioned, the company has a slowdown in revenue in Q1 each year, and it looks like the trend will continue in FY 2017. The new GPU will come to the stores late May, so no impact on sales in Q1 2017. 
What do analysts expect from this earnings call?
The revenue consensus is $1,265M, while the range is really narrow: $1,260M-$1,285M. And what's more important, it's a decline to what they had in Q4 2016. EPS consensus is $0.32 per share, while the range is wider: $0.30-$0.41. 
If we assume that the company's revenue decline will be around the same as it was last year, we'll get the revenue at the level of $1,288M, which is slightly higher than the analysts estimates. The company could record 10% fall q-o-q to be in line with analysts estimates. 
Summary
I think that the company will report in line with analysts estimates, however, this is definitely a good buy. I think you can consider buying the stock ahead of its earnings, but, as well as with NTES yesterday, hedge it with ATM and OTM puts. You'll spend around 3% on the hedging, but I think that in long-term the stock could go higher than that to cover your expenses.