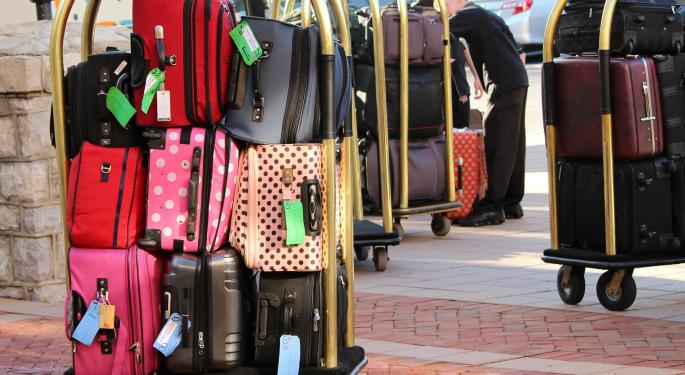 The holiday season reinvigorates consumers in a big way as they vie with one another in splurging money on purchases, especially on gifts for themselves, family, friends and others. Retailers make use of this psyche of consumers and come out with several luring propositions, including offers, deals, coupons, discounts, free shipping, etc.
Although retailers are said to be the prime beneficiaries of the holiday buying binge, there are other sectors, too, which vie for a piece of the holiday spending cake. Hotels, airline and travel & tour operators are among the overlooked sectors that reap in benefits of the frenzy to travel home to be with near and dear ones during the holiday season or to travel away from home with family in tow.
Historical Performance And Proxies
Performance of the shares of tour & travel operators during the holiday season (though there is no official start and end date for the season, it is safer to assume it coincides with the November-December months), could be taken as a proxy for the prospects for these companies.
Assuming a four-year perspective gives a fairly accurate picture on the trend, stock performance for four years during the holiday shopping season relative to the rest of the year was calculated to arrive at the correlation. That said, a statutory warning is deemed essential, as there could be noise due to extraneous factors such as economic condition and geopolitical tensions like natural calamities, terror strikes, etc.
Seasonal Comparative Analysis
Below is a look at how different stocks have historically performed in the November–December period versus the January–October period.
2012: +8.13 percent versus +22.66 percent.
2013: +10.30 percent versus +69.87 percent.
2014: (-5.47 percent) versus +3.77 percent.
2015: (-12.33 percent) versus +27.54 percent.
2012: +38.40 percent versus +20.15 percent.
2013: +0.13 percent versus +97.32 percent.
2014: (-15.79 percent) versus +7.04 percent.
2015: +1.76 percent versus +12.22 percent.
2012: +3.87 percent versus +111.72 percent.
2013: +18.13 percent versus +13.38 percent.
2014: +0.46 percent versus +22.54 percent.
2015: (-8.80 percent) versus +45.62 percent.
Outcomes
Performances of stocks of tour and travel operators have been underwhelming in the holiday period, much against expectations of a notable move orchestrated by the holiday-travel mania.
Looking at revenues for the period, there isn't any significant increase for the holiday season. Revenues for Priceline's fourth quarter, comprising the November–December period, came in at $2 billion in 2015, which accounts for roughly 22 percent of the total revenues for the year. In the case of Tripadvisor, the story isn't any different. The company's fourth-quarter 2015 revenues were $309 million or 20.7 percent of the total annual revenues.
Thus, the two key months of the holiday season aren't exactly the hot period for either fundamental performance or stock showing. This is probably because of the summer driving season running from April to August takes precedence over the last two months of the year from travel point of view. There isn't much to look forward to from these stocks despite the hype surrounding the holiday season.
At Last Check ...
Expedia shares were up 1.13 percent in Tuesday's pre-market session at $127.92.
Priceline Group was up 4.17 percent in Tuesday's pre-market, trading at $1,542.01.
Tripadvisor closed Monday at $63.43.
© 2016 Benzinga.com. Benzinga does not provide investment advice. All rights reserved.