Rubicon Project engages in automating the buying and selling of advertising, the company is one of pioneers on the programmatic advertising market. The company's stock lost almost 2% today. <!== INSTRUMENT %% %1440% ==!>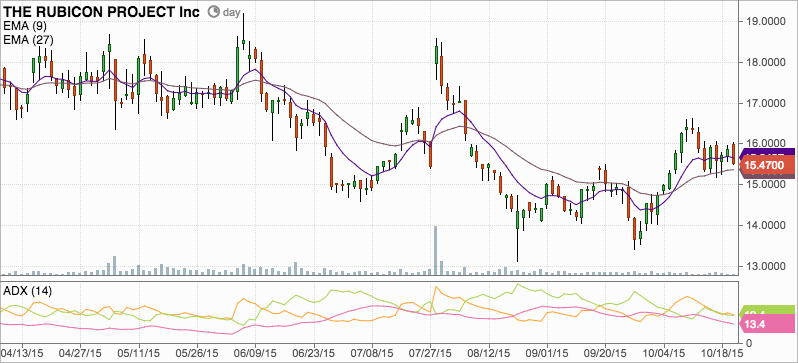 Rubicon provides the software for both advertisers and content providers worldwide. The business model is rather simple - the company receives the certain % from the marketing campaigns. 
Operating and financial metrics highlights:
Paid impressions number dropped down from almost 1.5B to around 1B;
CPM grew up almost 3 times: from $0.24 in 2012 to $0.67 in 2014;
The interesting trend in operating metrics is the marginality of the platform. The volume of marketing campaigns is growing each year, the company increased its net revenue from 17% (2012) of total turnover to 19% (2014). Three months ended June 30 Rubicon finished with 23.35% net revenue margin, so I assume that the company will continue to increase its marginality;
The company is increasing its operating expenses: marketing and sales expenses grew up from 37.7% (6 months ended June 2014) to 41% (June 2015) of revenue. Cost of sales grew up from 18% to almost 23%.
To sum up, Rubicon Projects is growing, probably the company will keep the marginality level this year. I am sure, that the company will have a significant growth in revenue this year (it was $424M as of June 2015, +50% from the last year). So I think that it can be a good addition to the technology portfolio. 
What do you think about AdTech market?