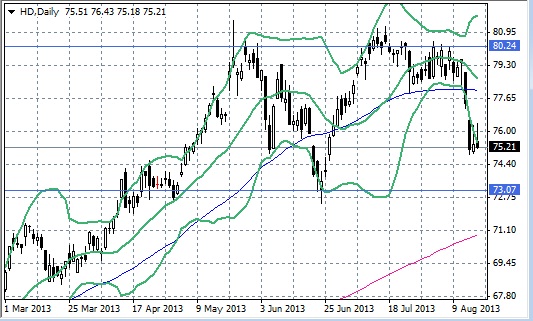 American retailer Home Depot on Tuesday reported a 17.2% rise in net earnings to $1.8 billion, or $1.24 a share, in the fiscal second quarter. Total sales climbed 9.5% to $22.52 billion.
Analysts surveyed by FactSet expected earnings of $1.22 a share on sales of $21.83 billion.
Home Depot lifted its fiscal 2013 EPS guidance to $3.60 for the year. It also raised its full-year sales guidance to growth of 4.5% and same-store sales growth of about 6%.
The results are rather successful and looking at the candle-stick chart we see that price has closed under the lower Bollinger line three sessions in a row. I think that it should at least close the gap and then rise to the resistance point near $80. And what's your opinion?