The Habit Restaurants, Inc. HABT has been disappointing investors, of late. In fact, shares of this Zacks Rank #4 (Sell) company have declined 5.2% year to date against the Zacks categorized Retail-Restaurants industry's gain of 9.9%.
Further, the Zacks Consensus Estimate for current quarter's earnings has also seen two negative revisions over the past two months, as against none in the opposite direction. This, in turn, has led to a 14.3% decline in the consensus estimate trend.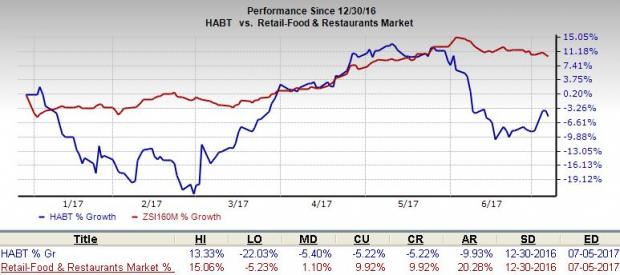 Let's have a look at some other factors that also suggest why it would be a wise decision to drop the stock from your portfolio now:

Lackluster Earnings Growth: Arguably, nothing is more important than earnings growth as surging profit levels is often an indication of strong prospects (and stock price gains) ahead for the company in question.

While Habit Restaurants has historical (3-5 years) earnings per share (EPS) growth rate of just 4.9% compared with the industry's average of 8%, investors should really focus on projected growth. Here, the company's EPS is actually estimated to decline 7% year over year. During the same time, the industry is expected to record an average EPS growth of 6.4%.

Valuation Looks Irrational: Habit Restaurants is currently trading at a trailing twelve month Price to Earnings (PE) ratio of 54.50, much higher than the industry average of 26.63.

Moreover, the PEG ratio for this restaurant operator is 2.36, a level that is higher than the industry average of 1.76. The PEG ratio is a modified PE ratio that takes into account the stock's earnings growth rate.

These ratios indicate that the stock is highly overvalued right now compared with its peers and thus, investors might not be interested to pay any further premium.

Industry headwinds: Over the last few quarters, the U.S. restaurant space has not been too enticing. Despite economic growth, somewhat lower energy prices and higher income, consumers increased their spending only modestly on dining out, which resulted in low consumption. This is because, along with wage growth, inflation is also on the rise, which translates to lower real income and thus less disposable income. The situation has taken a worse turn, thanks to higher health care costs and tightened credit availability in the U.S.

Moreover, as consumers demand high-quality products at lower prices, it is pushing grocery stores to decrease their food prices in order to remain competitive. This is resulting in a bigger gap between food-at-home and food-away-from-home indices.

Consequently, same-store sales growth has been dull in a difficult sales environment. Traffic too has been weak. In fact, the first quarter of 2017 marked the fifth consecutive quarter of negative comp sales for the restaurant industry as a whole, thereby continuing the somber mood. Habit Restaurants is no exception to the trend and resultantly, the company's sales have come under pressure.

Rising costs putting pressure on margins: Of late, the company's profits have been under pressure owing to a rising wage rates scenario. The company continues to expect labor costs to rise 6% to 8% in 2017. Moreover, pre-opening costs of outlets given the company's unit expansion plans, and expenses related to sales initiatives are adding to the costs and are likely to hurt profits.

It is to be noted that Habit Restaurants has recorded a return on equity (last 12 months) of 4.1%, while the industry average comes in at 8%.

Stock to Consider

Investors interested in the restaurants space can consider some better-ranked stocks instead.

Dave & Buster's Entertainment, Inc. PLAY surpassed earnings estimates in all of the trailing four quarters with an average positive surprise of 30.50%. It currently sports a Zacks Rank #1 (Strong Buy) presently. You can see the complete list of today's Zacks #1 Rank stocks here.

Red Robin Gourmet Burgers, Inc. RRGB is another Zacks Rank #1 company, which has seen current year earnings estimate move up 4.4% in the last two months.

McDonald's Corporation MCD is a Zacks Rank #2 (Buy) company. Its earnings have beaten estimates in all of the trailing four quarters, recording an average positive surprise of 7.01%.

Today's Stocks from Zacks' Hottest Strategies

It's hard to believe, even for us at Zacks. But while the market gained +18.8% from 2016 - Q1 2017, our top stock-picking screens have returned +157.0%, +128.0%, +97.8%, +94.7%, and +90.2% respectively.

And this outperformance has not just been a recent phenomenon. Over the years it has been remarkably consistent. From 2000 - Q1 2017, the composite yearly average gain for these strategies has beaten the market more than 11X over. Maybe even more remarkable is the fact that we're willing to share their latest stocks with you without cost or obligation. See Them Free>>
Want the latest recommendations from Zacks Investment Research? Today, you can download 7 Best Stocks for the Next 30 Days.
Click to get this free report
McDonald's Corporation (MCD): Free Stock Analysis Report
Red Robin Gourmet Burgers, Inc. (RRGB): Free Stock Analysis Report
Dave & Buster's Entertainment, Inc. (PLAY): Free Stock Analysis Report
The Habit Restaurants, Inc. (HABT): Free Stock Analysis Report
To read this article on Zacks.com click here.
Zacks Investment Research