AT40 = 52.7% of stocks are trading above their respective 40-day moving averages (DMAs)
AT200 = 55.6% of stocks are trading above their respective 200DMAs
VIX = 11.1 (flat) (volatility index)
Short-term Trading Call: neutral
Commentary
Tech was back today sucking energy out of other parts of the stock market. The Nasdaq increased 0.4%, and the PowerShares QQQ ETF (QQQ) increased 0.7%. The S&P 500 (SPY) barely eked out a gain at 0.1%. Yet, AT40 (T2108), the percentage of stocks trading above their respective 40-day moving averages (DMAs), declined slightly by 2 percentage points to 52.7%.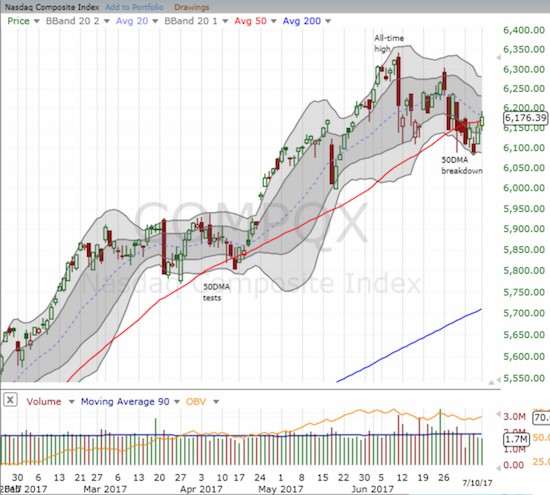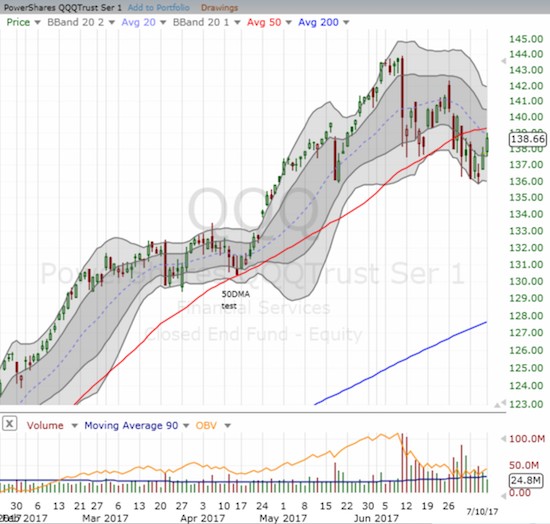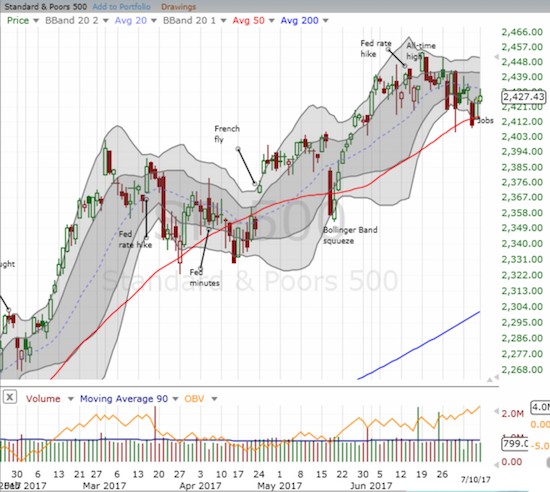 The apt representation of the sucking sound was Amazon.com (AMZN) which was on the eve of raking in big dollars from its much anticipated Amazon Prime Day. AMZN popped 1.8% in a move that confirmed a 50DMA breakout and reconfirmed the 50DMA as uptrending support. On the other side of the ledger was the SPDR S&P Retail ETF (XRT) and its 2.4% loss to a (marginal) new 17-month low. Macy's (M) was just minding its business and lost 7.1% to a near 7-year low on heavy trading volume just for being one of the many hapless retailers looking like sitting ducks on Prime Day eve (ok, MAYBE it had something to do with sympathy for Abercrombie & Fitch's (ANF) 21% loss after announcing there is no buy-out on the horizon).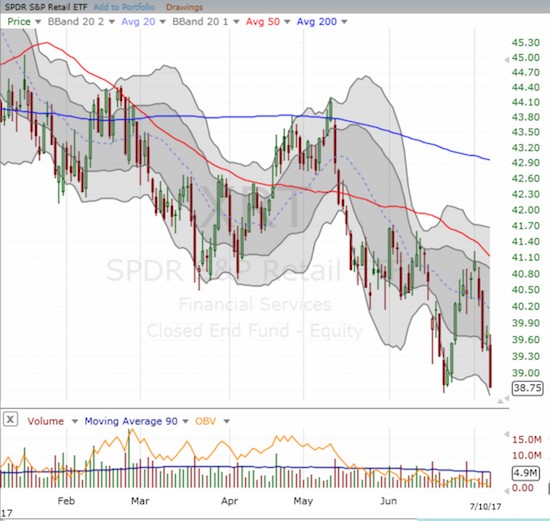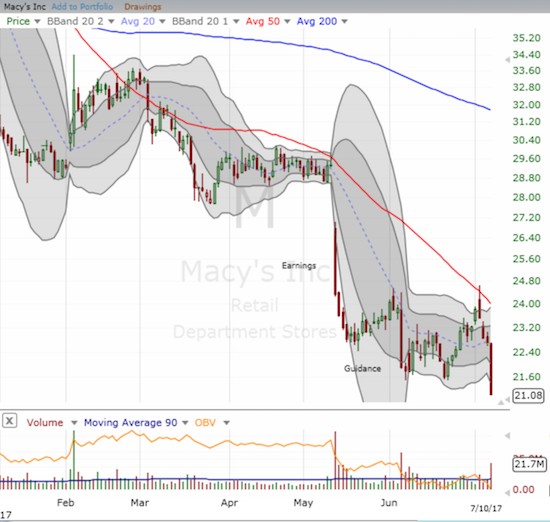 With AMZN gapping up at the open, I traded on near automatic and bought a call option with a $1000 strike. I set a sell limit for a 40%+ gain and was first pleasantly surprised that the trade triggered within two hours and was second a bit disappointed I did not reach for more as the call option ended the day with a 130% gain. I will be looking for any signs of a "sell the news" reaction after Prime Day ends. (In related trades, later in the day, I locked in profits on my latest tranche of QQQ call options. Anticipating the yo-yo to go back down, I doubled down on my Apple (AAPL) puts but did not add to the Netflix (NFLX) put options).
Just for emphasis, Best Buy (BBY) got pummeled on the heels of more Amazon panic. News headlines spread quickly about Amazon Smart Home...
More