It was reported that drug spending in the United States jumped over 12% to a record $425 billion in 2015.
The number is a bit deceptive but should continue to fuel the rhetoric about drug price "gouging" and also confirms biotech/pharma's secular tailwinds remain intact as well.
Our spotlight today is on Redhill Biopharma. This is a small promising Israel-based biopharma that analysts have been falling in love with of late.
Intrexon gets the nod to help control the Zika virus in Brazil through its genetically engineered mosquitoes.
The biotech sector continues to show resiliency in recovering from a deep bear market it is just emerging from. Not even pariah Valeant's (NYSE:VRX) continuing travails seem to be a headwind. The biotech indices took the news that the company had received a notice of default from holders of its 5.5% Notes due 2023 as a result of the delay in filing its 10-K. Luckily this is easily cured by filing that annual report before early June which the company had planned to do anyway.
Although default is unlikely at this time, chatter is picking up the company will need to divest some assets to pay down its ~$30 billion debt load which now is in junk territory. Valeant has called in the investment banks to explore options.
Bidders are reportedly kicking the tires on its biggest gastrointestinal product, Xifaxin, as well as aesthetics products Obagi and Solta and skin care product CeraVe. Look for an article later today on why this might be a good thing for an undervalued biopharma named Progenics Pharmaceuticals (NASDAQ:PGNX). It should be taken as a positive that news out of Valeant does not be seeming to be hitting other pharma names which had been the case until recently.
In news that has made headlines within the sector over the past few days. Sean Parker of Facebook (NASDAQ:FB) and Napster fame will inject $250 million into the immuno-oncology research field in an effort to boost cancer survival rates. This is in addition to the $600 million the serial entrepreneur put up to launch the Parker Foundation last year, with a particular focus on life sciences.
He will give the money as a grant to 6 cancer centers nationwide. These centers will form the "Parker Institute for Cancer Immunotherapy" and will include over 40 laboratories and more than 300 researchers from across the 6 sites. Given how closed the IPO window has been so far in 2016 for small biotech companies, it is good to see money still being allocated to these focus areas outside the drug giants.
Thursday the IMS Institute for Healthcare Informatics released figures showing that spending on prescription drugs in the U.S. rose 12% to a record $425 billion last year, fueled by new and costly drugs for cancer and hepatitis C. This leads to a couple of observations.
The secular tailwind for both the pharma and biotech sectors remains firmly in place as the population ages and new treatments get approved. The FDA approved 56 news compounds in 2015, the second most ever.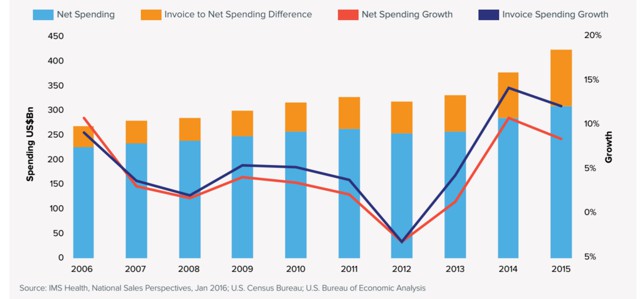 Second, the election-driven rhetoric about drug price "gouging" will remain firmly in place through at least through November of this year. It is important to remember that the $425 billion headline figure does not include discounts and rebates which can be substantial in many areas including HCV. The average net price increase for branded drugs was just 2.8% in 2015, versus 12.4% using wholesale prices. Not that politicians ever let the facts get in the way of a good sound bite especially in an...
More