Written by Finbox.io
With more than 37,000 restaurants in over 100 countries, McDonald's (NYSE: MCD) is considered an American icon around the world. Even more impressive is the stock's history. Investing $2,250 for 100 shares in McDonald's IPO in 1965 would have left you approximately $10 million richer.'
Though the company has faced multiple challenges on its way to dominance, the fast food chain has continued delivering impressive results through the decades. It is also a Dividend Aristocrat meaning it belongs in the exclusive club of companies which have paid and increased dividends for at least 25 consecutive years. In point of fact, its record of increasing dividends stands from 1977, representing 40 years of aristocratic status.
McDonald's Rewards Shareholders
For Q1'17, analysts were expecting EPS of $1.33 on revenues of $5.5 billion whereas the company outperformed market expectations and delivered EPS of $1.47 on $5.68 billion of revenues. EPS rose by 19.4% on a YOY basis. The better than expected Q1 earnings, large stock buybacks and the allure of the ever increasing dividend has made it an investor favorite once again. And as a result, McDonald's stock has catapulted higher.
(Click on image to enlarge)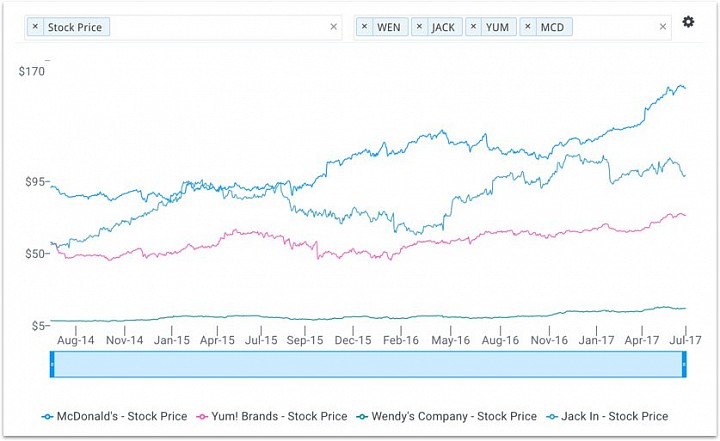 MCD's stock was trading at around $120 to start 2017 and in less than 6 months, shares have risen by over 25%. During the same period, the majority of its competitors have been unable to keep up; Jack in the Box (NYSE: JACK) -13%, Wendy's (NYSE: WEN) +14% and Yum's Brand (NYSE: YUM) +14%. However, Restaurant Brands International (NYSE: QSR) has also been impressive increasing 30% over the same period.
SSSG: The Magic Number Driving MCD
Same-store sales growth (SSSG) measures the increase in a company's revenues from its existing chain of restaurants. It is ultimately determined by a combination of the total ticket or meal size...
More