The deal is done...
*ALIBABA SAID TO PRICE IPO AT $68: CNBC CITES DOW JONES
At that price, BABA is valued at ~$170 billion - higher than 95% of the S&P 500 and the biggest US IPO ever at $21.8 billion (bigger than Visa's $19.7bn debut in 2008).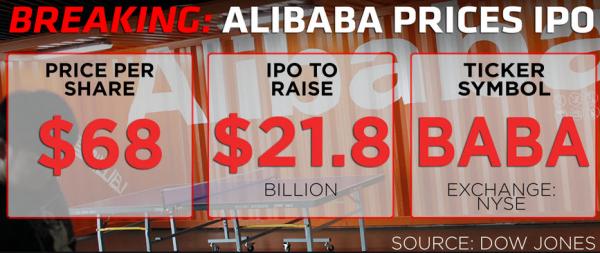 So if you want to buy some BABA shares, here's what happens next...
The much anticipated Alibaba IPO will begin trading tomorrow under the symbol BABA. To ensure efficient execution of your orders, please be advised of the following:
Orders can only be entered after 4:00 pm today.
All orders entered to participate in the Open tomorrow require a Limit. No Market Orders will be accepted.
It is anticipated trading will commence at approx. 11 am EST; however, this time is dependent on NYSE bank instruction to its brokers
YHOO shares were rising into the news (after a weak day)...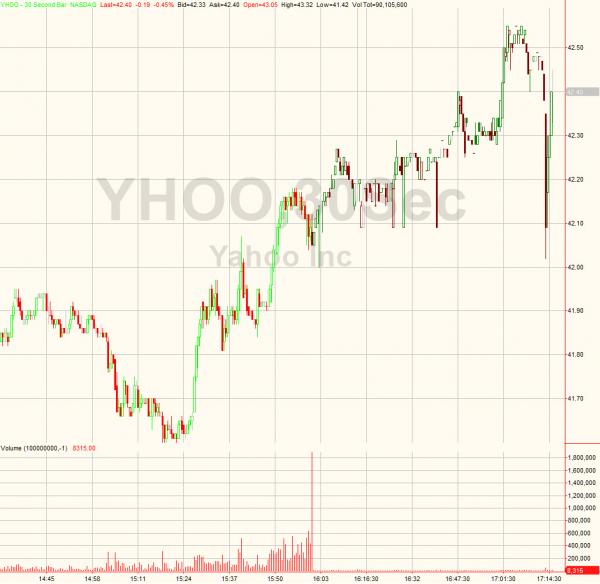 https://twitter.com/search?q=%24BABA&src=ctag

says "Open Sesame" to all the big wallets on the

https://twitter.com/hashtag/WallStreet?src=hash

https://twitter.com/hashtag/JackMa?src=hash

you Rock!

https://twitter.com/hashtag/PingDoodles?src=hash

pic.twitter.com/uIqQTEWb5H

— it's ping here! (@itsping)

https://twitter.com/itsping/status/512702424612495360