2015 looks set to be the 'superbowl-est' Super Bowl of all time as far as ticket prices are concerned. As Forbes reports, next Sunday's game will be the most expensive NFL championship ever based on ticket resale price.
The current average list price for Super Bowl XLIX tickets at University of Phoenix Stadium in Glendale, Ariz., is $6,500, making it the most expensive Super Bowl that TiqIQ has ever tracked. That average is 110% more expensive than it was at the same point one year ago. Last year on the day of the game, the secondary market average was $2,500.
Below is a chart, by day, of the last six Super Bowls and the average price by day for each. As you can see, 2015 has done nothing but move up, and it has yet to peak.  With it's almost vertical climb in the last two days, this year's game is literally off the chart – or at least redefining the upper limits of the chart.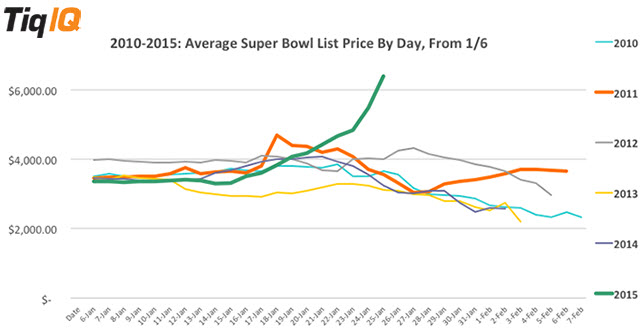 Based on historical estimates, $3,000 is a good mark to shoot if you just want to 'get in'.
2010: Saints vs. Colts: $2,329.26
2011: Packers vs. Steelers: $3,649.41
2012: Giants vs. Patriots: $2,955.56
2013: Ravens vs. 49ers: $2,199.08
2014: Seahawks v Broncos: $2,567.00
2015: Seahawks v Patriots: $3,000.00 (est.)
*  *  *
Welcome to joyflation America.