We end the week with a strong push from USD/JPY. The 4H Chart shows a market that was consolidating throughout the week after a start that popped up to 104.27. Price has since held above a support pivot at 103.50, and held rode the 50-period SMA back up during the last couple of days (this is the same as the 200-hour SMA). Note that the 4H RSI held above 40, and when it moves above 60, it would be a sign of bullish continuation momentum.
Price is also breaking above a falling trendine, poised to reach toward the 104.27 high at the beginning of the next week. USD/JPY is in a bullish continuation attempt that has upside toward the 105.44 high on the year.
USD/JPY 4H Chart 8/29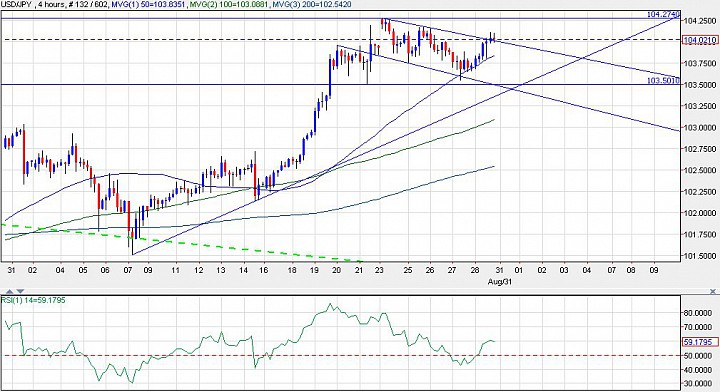 (click to enlarge)
This week, we had mostly positive data from the US. There were some wrinkles in New Home Sales, core durable goods, and personal spending. Regarding housing data, this was 1 disappointing reading vs. 5 that beat estimates during the month. Durable goods was saved by a strong sales in airplanes, so the headline number was actually impressive - 22.6% growth in July. The key data point was the second reading for Q2 GDP, which came in at 4.2%, above the first estimate of 4.0%.

A decline in spending in July (-0.1% on the month), could be a concern. It continues the narrative of issue of lack of wage growth. 
The USD seems strong, but cautious this week. The GDP data should lead the data points in keeping the USD strong, and the USD/JPY still has an outlook toward 105.44.