On Jul 7, Red Hat Inc. RHT was upgraded to Zacks Rank #1 (Strong Buy). The upgrade can be attributed to strong first-quarter fiscal 2018 results, which helped management to raise fiscal 2018 guidance.

Earnings (including stock-based compensation) were 40 cents per share in the reported quarter, beating the Zacks Consensus Estimate by 6 cents. We note that Red Hat has outperformed the Zacks Consensus Estimate in the trailing four quarters with an average positive surprise of 11.14%.

Moreover, revenues increased 19.2% year over year to $676.8 million, primarily driven by strong subscription revenues and cross-selling of cloud-enabled technology. The figure was better than the Zacks Consensus Estimate of $647 million and also better than management's guided range of $643–$650 million.

The robust performance drove current year estimates in the last 30 days. The Zacks Consensus Estimates for fiscal 2018 and 2019 increased 3.3% and 5.1% to $1.88 and $2.25, respectively.

Red Hat, Inc. Revenue (TTM)
We also note that Red Hat has outperformed the S&P 500 Index on a year-to-date basis. While the stock returned 36.2%, the industry gained 7.7%.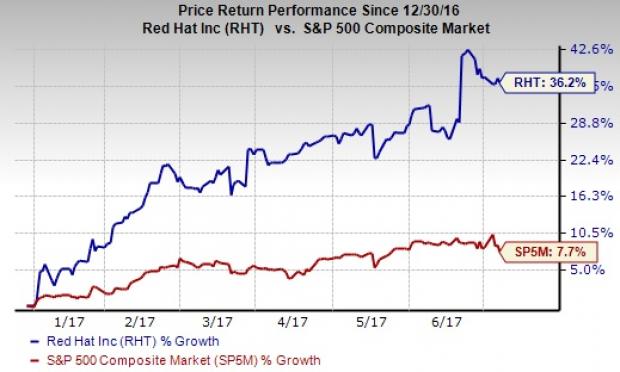 Growth Catalysts

Red Hat is benefiting from strong deal win, improving recurring revenues and cross-selling of cloud-based technology. The recent Amazon Web Services – OpenShift partnership extension reflects strength in the company's solutions and platform.

Further, its emerging technologies have gained a lot of traction in recent times. The company anticipates that revenues from the on-demand Certified Cloud and Service Providers (CCSPs) will reach $200 million annual run-rate in the current quarter.

Red Hat noted total 44 deals over $1 million in the reported quarter. Within these deals seven were greater than $5 million and four were greater than $10 million including one deal greater than $20 million.

We note that Red Hat has a strong customer as well as partner base that include the likes of IBM, Intel INTC, Dell Technologies, Google cloud platform and Microsoft MSFT Azure.

Moreover, the acquisition of Codenvy will further boost Red Hat's position in the hybrid cloud computing market.

Other Key Picks

Verint Systems VRNT is another top-ranked stock in the sector that sport the same rank as of Red Hat. You can see the complete list of today's Zacks #1 Rank stocks here.

Long-term earnings growth rate for Verint is pegged at 8.50%.
Will You Make a Fortune on the Shift to Electric Cars?
Here's another stock idea to consider. Much like petroleum 150 years ago, lithium power may soon shake the world, creating millionaires and reshaping geo-politics. Soon electric vehicles (EVs) may be cheaper than gas guzzlers. Some are already reaching 265 miles on a single charge.
With battery prices plummeting and charging stations set to multiply, one company stands out as the #1 stock to buy according to Zacks research.

It's not the one you think.
Want the latest recommendations from Zacks Investment Research? Today, you can download 7 Best Stocks for the Next 30 Days.
Click to get this free report
Red Hat, Inc. (RHT): Free Stock Analysis Report
Microsoft Corporation (MSFT): Free Stock Analysis Report
Verint Systems Inc. (VRNT): Free Stock Analysis Report
Intel Corporation (INTC): Free Stock Analysis Report
To read this article on Zacks.com click here.